Ready to dive into mindful thinking and fight the urge to overconsume? Look no further. Our capsule wardrobe checklist will guide you through all the must-have pieces that never go out of style.
With a classic collection of around 30-40 pieces, you will be able to eliminate distractions of the fashion world. Rather, you will build a wardrobe upon your unique sense of style, prioritizing individuality over fleeting trends. The key to this is reducing the quantity of clothes you own while minimizing your fashion spending.

Given that, let's review the following printable capsule wardrobe checklist and the principles behind it: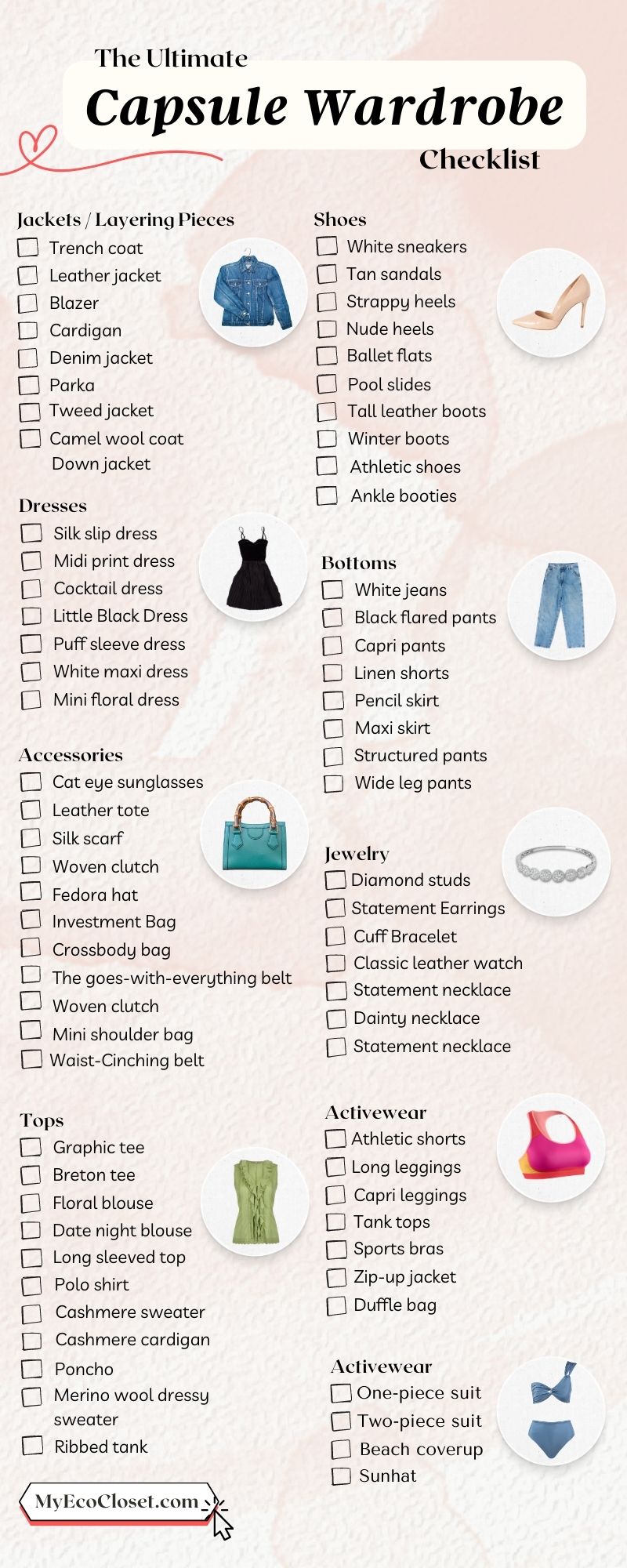 Investing in High-Quality Atemporal Pieces
Before purchasing a new item for your wardrobe, you must figure out whether it's a fad, trend, or classic. Let's review their definitions to avoid overconsuming clothes:
Also known as microtrends, fads are extremely short-lived and result in the hamster wheel of fashion (avoid at all costs!)
Trends last longer than fads, remaining 'in vogue' for years or even decades. However, it's easy to notice that trends are altered classics, so, they're not quite in the 'timeless' zone.
Classics, also known as atemporal trends, are everywhere, always. They can be heirloom pieces passed down to generations that remain stylish and relevant in any decade.
The items in this checklist, such as merino wool dressy sweater, Breton tee, and the little black dress, are considered atemporal trends that never go out of style. These items last for decades, as they feature minimalistic, versatile designs without any extravagant details.
With that said, when building a capsule wardrobe, it's crucial to invest in atemporal trends that are made of high-quality, natural materials. This way, you will preserve your clothes for longer, ensuring that they're both sturdy and stylish in the long run.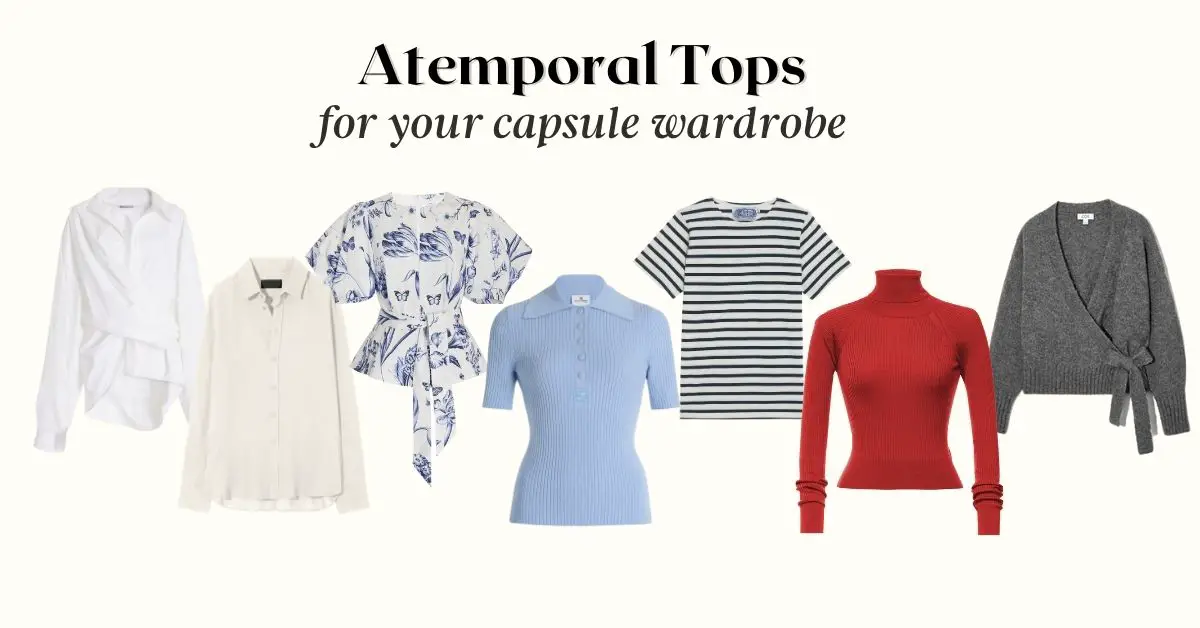 What are some examples of atemporal
tops

?

Whether you're going for an office-ready or a date-night look, the following atemporal tops will help you look put-together. These items are truly timeless in design, which makes them a worthwhile investment.

Atemporal trends for blouses and tops include the following:
White button-down or long-sleeve blouse
Flattering everyday graphic tee
A floral summer blouse
The Breton striped tee
Polo shirt
Moving on to sweater must-haves, consider investing in the following timeless pieces:
Cashmere sweater
Cashmere cardigan
Merino wool sweater
Poncho
The classic turtleneck in your color season
What are some examples of timeless
dresses

?

Lasting the test of time and trend, atemporal dresses feature simplistic cuts that show off the feminine form. Yet, despite their minimalistic designs, they may or may not work for your body shape.

So, get ready for a phase of trial and error, and recognize the significance of tailoring – some dresses may require a bit of adjustment before incorporating them into your wardrobe. With that said, the following atemporal dress types are worthy to invest in:
The little black dress (LBD)
Silk slip dress
Puff / off-shoulder sleeve dress
The work dress
White maxi summer dress
Mini floral dress
Pro tip: For a black-tie event, opt for rental services, which are a sustainable alternative to clothing overconsumption. Rental platforms offer a wide variety of eveningwear options – by this, they eliminate the need to own special occasion attire. Besides, they make it easier to find the right garments for your shape and size, which is helpful if your weight tends to fluctuate.
What are some examples of classic
bottoms

?

When it comes to bottoms, trends certainly come and go – the reign of skinny jeans came to an end this last decade, with flared and mom jeans taking their place. However, certain silhouettes withstand the ever-swinging pendulum of trends, and we're going to unfold them for you below:
The androgynous boyfriend jean
Structured (tailored) pants
Classic linen shorts
Black flared jeans
Wide leg pants
Capri pants
Pencil skirt
Pleated skirt
Maxi skirt
Capsule Wardrobe Accessories: Why They're Important
In order to make your classic pieces interesting, you should pair them up with captivating accessories. With a silk scarf, statement jewelry, and a classic leather belt, you can dress up simple atemporal pieces and elevate even the most basic outfits. Like Joyce Carpati mentions, "style is starting out with beautiful lines and then adding wonderful accessories."
Besides, unlike clothing, accessories do not lead to fashion waste. Rather, they occupy very little space, keeping your closet tidy while adding a touch of extravagance to your minimalist outfits. They also can be worn regardless of weight fluctuations. So, it's smart to invest in a greater variety of quality accessories, rather than clothes.
For this reason, our capsule wardrobe checklist includes jewelry and accessory options like diamond studs, statement necklace, and classic leather watch. These items will create lots of variations in your outfits – all without burdening your closet with clutter.
What Accessories to Invest for a Capsule Wardrobe?
While your selection of accessories will depend on your lifestyle and personal aesthetic, you should make sure that your accessories are timeless. This way, they will serve you for years without looking dated. With that said, let's review some of the timeless capsule wardrobe accessories that made it to our checklist:
The Versatile Leather Belt
With lavish leather and minimalistic buckles, the goes-with-everything belt is a must-have capsule wardrobe essential. It complements all outfits – no matter professional or casual – while adding a touch of sophistication to them. It can be paired with a pair of wide-leg trousers or an oversized blazer to give your waist some definition.
The Multifunctional Silk Scarf
No matter new or vintage, a silk scarf can serve you in multiple ways while minimizing your clothing consumption. It can be worn as a headscarf, wrap skirt, beach coverup, veil, hairband, or even a vest. This makes it the perfect multifunctional accessory, acting as a focal point of any minimalistic outfit.
The Classic Crossbody
Functional yet stylish, the classic crossbody is a wardrobe staple that you can take you from day to night. You can always rely on this bag when running errands or going out for a walk at night, as it's not only spacious but also securely attached to the body.
Diamond Stud Earrings
Every woman needs a pair of diamond stud earrings – they're the foundational investment piece that keep you looking effortlessly chic. Diamond studs can be worn at all times, as they go with any outfit – no matter the occasion.
Clothing Care Essentials for Capsule Wardrobe
As you follow the capsule wardrobe checklist, it's essential that you pay attention to garment care. This way, you will prolong the lifespan of your clothing collection, keeping it looking new for a longer time.
When it comes to sustainable fashion, remember that the role of individual responsibility is vast. Clothing care alone, in tandem with reduced washing and drying, could reduce around 186 million tons of carbon emissions – if consumers eliminated 1 in 6 washing cycles and prioritized air drying.
With that said, ditch dry cleaning and synthetic fabric softeners – it's time to invest in the following garment care essentials:
Eco Dryer Balls
A green alternative to fabric softener, 100% wool dryer balls reduces static when tumbling clothes. They're hypoallergenic, reusable, and natural, as compared to fabric softeners, which contain harmful chemicals like phthalates and galaxolide.
Besides, if you do laundry often because of few clothing options, dryer balls can help lift clothes in the dryer. This not only shortens the overall drying time but also helps you save on electricity.
Fabric Brush
Fabric brushes are necessary for optimal garment care, as they remove excess fluff and fibers from your clothes. They're especially useful when dealing with natural fabrics like fine wool, velvet, cashmere, silk, or other delicate materials.
Hand Steamer
If you're all about that decision-fatigue-free lifestyle, you need a clothes steamer to quickly prepare your outfits for display every morning. A handheld steamer removes creases and wrinkles in an instant – all while sanitizing your garments. This makes it a great alternative to ironing for your brand-new capsule wardrobe.
Pro tip: Use a hand steamer to refresh and disinfect garments – this will remove odor and reduce the necessity to wash them often.
Fabric Shaver
Luxurious or natural textiles are not immune to pilling. Through wear and tear, they tend to look worn out, which can be prevented using a fabric shaver. The device gets rid of all the fluffy fiber balls, which sit on the top layer of the fabric.
Pro tip: To prevent piling, make sure to use a mash washing bag when doing laundry, and let the fabric of your garment recover for at least one or two days before re-wearing it.
Follow Your Unique Sense of Style
Although it's helpful to adhere to capsule wardrobe blueprints, we all have different lifestyles, tastes, body types, and forms of aesthetic expression. On top of personal preferences, most of us obey various dress codes for work and play – be it when hitting the gym or going to the office.
So, don't be afraid to detach yourself from rigid minimalist frameworks. To embrace slow fashion to the core, you should ensure that your garment choices are intentional, creative, and unique. Hence, make sure to tailor your clothing choices to your current lifestyle, favorite colors, and individual needs – this way, your wardrobe become your best companion.
Conclusion
Let's welcome a wardrobe of no excuses, piles of unused clothes, or nothing-to-wear hassles. Our foundational capsule wardrobe checklist will equip you with timeless pieces that you can wear for decades to come.
With the right care, trend-proof essentials will not only help you cultivate mindful consumption but also become the most stylish version of yourself. So, get ready to assemble a wide array of accessories, garment care essentials, and classic items, and let your capsule wardrobe stick with you for decades.