When choosing your favorite pair of undies, stop focusing on aesthetics only. Let's be honest, although the panties from Victoria's Secret or any other mainstream brand are sexy, they're rarely good for us – especially for those struggling with infection-prone, intimate skin.
So, say goodbye to synthetic underwear and say hello to linen, the ancient material that lets the genital skin thrive. With its antibacterial properties, this fabric is vagina-friendly, as it eliminates all the yeast and bacteria that might reside in your lady parts.
Given that, we curated a roundup of 5 underwear brands that you should have on your radar, all of which deliver the most comfortable sustainable lingerie. So, let's dive into our hand-picked recommendations.
1. TA-CT
Made of the finest European flax, underwear from TA-CT features unique designs with a bit of stretch. The linen fabric is blended with only 5% elastane to achieve ultimate comfort.
And the best part of it all? 100% organic, the brand is certified by Masters of Linen, meaning the entire cycle of fabric production behind the women's underwear, including spinning, weaving, and manufacturing practices, takes place in Europe.
2. LG Linen
With the right amount of ruffles, LG Linen offers the most elegant and feminine French knickers and bandeau-style bras in colors like dusty rose, salmon, royal blue, and lilac.
This brand is perfect for those who cherish both health and aesthetics. Their 100% linen underwear fabrics are organic certified by OEKO-TEX, and the designs are absolutely breathtaking!
And although their underwear incorporates elastics to give it more structure, they are covered with linen from all sides, so that they don't come in contact with your body or irritate your skin.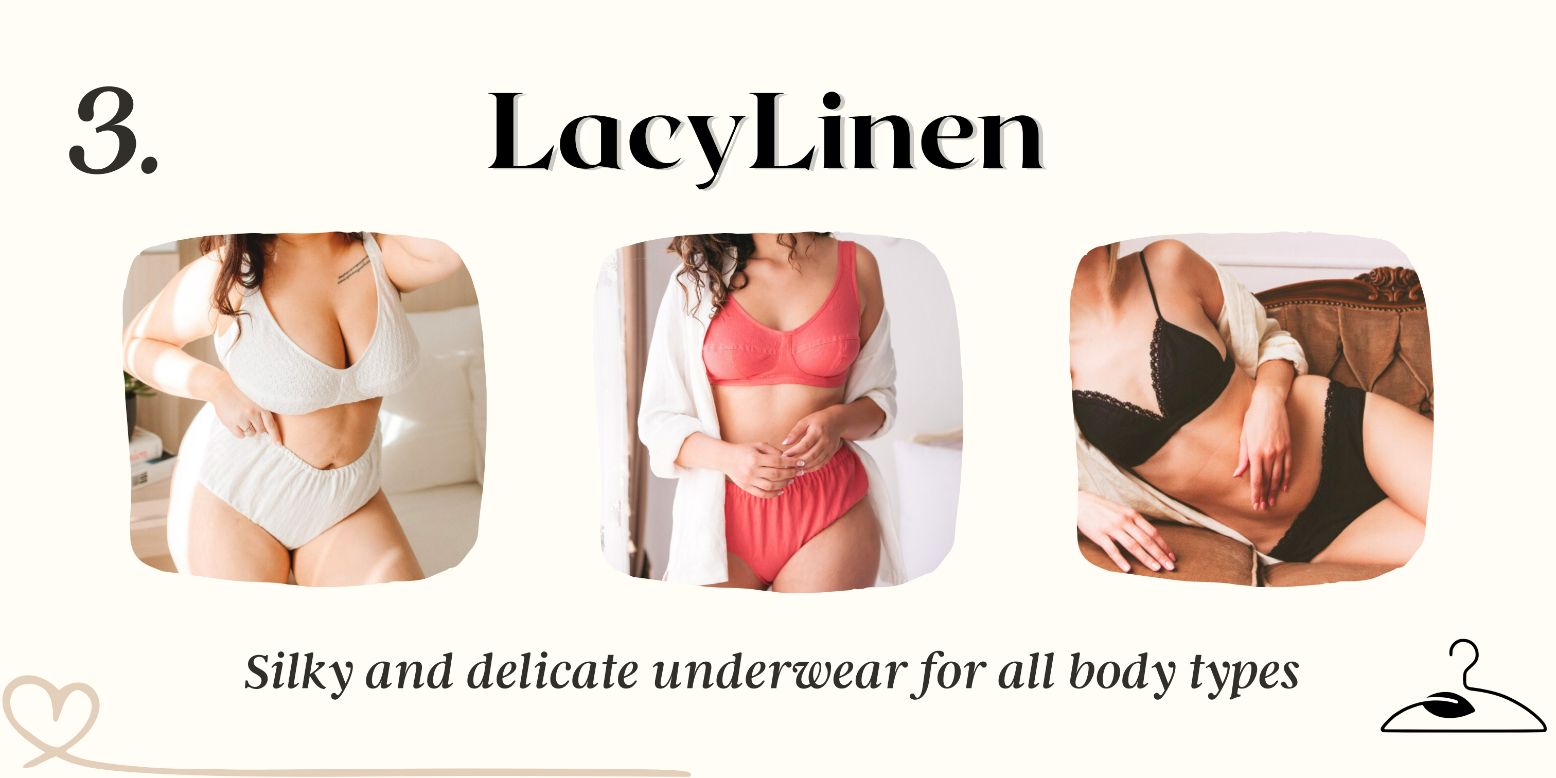 3. LacyLinen
Simple yet elegant, these panties take the underwear experience to the next level. The linen fabric that LacyLinen uses is silky and delicate. What's more, it's certified organic by OEKO-TEX with no synthetic additives.
The construction of the panties features an elastic rubber band, which ties around your waist comfortably. This way, it adjusts to every body type, be it skinny or curvy, making the brand size-inclusive.
5. Life-Giving Linen
Did somebody say sustainability? With its GOTS-dyed, 100% organic textiles, this store is the definition of an eco-friendly brand.
Life-Giving Linen promises to rid us of that "icky, sweaty sensation" with the help of linen's unmatched breathability and moisture-wicking properties. Their underwear treats chronic infections, offering a natural cooling effect that prevents yeast infections, night sweats, and buildup of harmful bacteria.
PRO TIP: Since this organic linen underwear is not as stretchy as those made of synthetic blends, make sure to opt for a larger pair for the best fit.
4. Rawganique
Are you a fan of boy shorts? If so, this two-layered, cozy underwear will become your best companion. Lined with 100% organic cotton jersey in the crotch area, the main construction of the underwear is made of organic French flax linen.
The underwear comes in two colors: natural and black. The former is dye- and bleach-free, the latter, on the other hand, is dyed with fiber-reactive, biodegradable eco-dye. Both options are equally gorgeous and sustainable!
Why Are Organic Linen Underwear Healthy?
Unlike cotton, which retains your sweat, organic linen underwear absorbs moisture while wicking it away from your genital area. By this, it helps fight yeast infections and bacteria, which thrive in damp, warm areas, making linen the healthiest fabric option for underwear.
If you're still not convinced, linen can absorb 20% to 35% of its weight before it starts to feel damp to the touch, making it ideal for feminine products and underwear alike.
Key Benefits of Organic Linen Underwear
Hypoallergenic, long-wearing, sturdy, and soft – these are only a few ways to describe the perks of 100% linen lingerie. Its benefits are immeasurable, with linen being the sturdiest of all natural fabrics, featuring microscopic breaks throughout its fibers that exfoliate your skin.
Organic vs Conventional Linen
Organic linen lingerie delivers the full spectrum of the fabric's numerous benefits. Unlike its conventional counterpart, organic linen rejects the use of pesticides, artificial dyes, or chemical processing, making it safe to use for the most sensitive parts of your body.
Besides, it either retains the natural colors of the fabric (ivory, beige, and taupe) or incorporates sustainable, toxin-free natural dyes – without harming the environment or your health.
Given that, here are some certifications to look out for when shopping for organic linen underwear:
Global Organic Textile Standard
Oeko-Tex
Bluesign
Fair Trade
Preventing Ingrown Hair
It's common knowledge that underwear made of natural fabrics like linen, silk, and organic cotton, prevents chafing and enhances breathability in your vaginal area. However, linen features additional skin-friendly properties that you may not know about.
Assuming the right fit, linen lingerie won't irritate your lady parts, preventing ingrown hairs, eliminating odors, and enhancing vaginal health. Besides, it's highly absorbent and anti-static, meaning it won't rub against the rest of your clothes or cause discomfort.
Ultimately, linen panties act as an additional barrier between your vaginal area and clothing, preventing buildup of sweat for maximum comfort.
Wicking Moisture Away
This is an important factor to consider when purchasing underwear. After all, regardless of how cute your new pair of undies may look, if it's made of synthetic polyester, it's more likely to become a breeding ground for bacteria and yeast infections. This is because synthetic fabrics hold onto moisture, meaning they're 'hydrophobic.'
Luckily, linen is the biggest enemy of moisture, heat, and sweat. The fabric envelops your lady parts without holding excess perspiration or discharge, fighting off the microbes that tend to accumulate in damp environments.
Ultimately, linen absorbs moisture without festering bacteria. This way, your undies won't get as smelly (as in the case of synthetic ones) or require bleaching, which makes linen one of the most eco-friendly fabrics for underwear.
Care Instructions to Follow
Prone to shrinking and softening, linen becomes smoother after each wash. In order to retain its structure, you must wash it in low temperatures, using cold or lukewarm water.
Always opt for the gentle cycle (or hand washing) and avoid using synthetic detergent – it is not only harmful to your skin but also to the fibers. Instead, wash your linen underwear using a gentle, toxin-free detergent, which is more suitable for delicate fabrics.
Shrinkage After Initial Wash
Expect linen to shrink by at least 4% of its natural size after the initial wash – unless it's pre-washed. However, if you wash the fabric in warm water, it may shrink even up to 10%.
This happens because linen's made of plant-based, rather than protein fibers, which loosen up when coming in contact with water. Water lets the fibers lean back into their original size, making the slight, initial shrinkage inevitable.
Maintaining Hygiene
Doctors recommend washing your underwear separately from other laundry loads to minimize exposure to bacteria or infection. Whether it's E. Coli or fungal infections, it's important to avoid spreading germs onto the rest of your garments.
This applies to organic linen underwear as well. Hand washing can disinfect the fabric effectively. However, if you choose to machine wash your lingerie, make sure to go the extra mile every now and then and clean the washing machine thoroughly.
Simply run an empty cycle with white vinegar on a hot setting to kill off all the harmful bacteria. This will prevent your underwear from contaminating other laundry loads.
FAQ
Are Linen Underwear Good?
Much more durable than cotton or any other natural material, organic linen underwear is ideal for your skin, as it leaves a soothing effect on your genital area. It's believed to relax the nervous system and enhance air circulation, which are crucial for a healthy vaginal microbiome.
What is The Healthiest Underwear to Wear?
Breathable and absorbent, natural underwear made of organic cotton, bamboo, linen, and peace are the healthiest to wear, especially for sensitive and delicate areas. They can help prevent yeast infections, absorbing extra moisture and maintaining a healthy pH balance.
What Underwear Do Gynecologists Recommend?
Gynecologist claim that the most common reasons behind poor vaginal lie in health infections, chemicals, and harmful bacteria – all of which become exacerbated by synthetic materials. For this reason, it's crucial to select underwear made of natural materials that reduce inflammation, preventing UTIs and vaginal infections.
What is the Best Underwear to Prevent Yeast Infections?
Synthetic fabrics trap heat and moisture in the southern area, allowing yeast to multiply. With their moisture-wicking and anti-fungal properties, natural panties are the best underwear to prevent yeast infections, as they keep your lady parts free of moisture and bacteria.