From stuffing everything in a suitcase to forgetting what to take with you, packing can be a stressful endeavor. It can take up hours of your time, and in the end, you may not even fit your belongings in just one suitcase.
However, it's possible to pack in just under two hours and fit everything seamlessly in your luggage space. The key is being systematic in your approach so that you can alleviate common packing burdens, such as forgetting what to take with you, wrinkling your clothes, or bringing too much baggage.
With that said, let's explore this simple packing method and how it can streamline your travel prep: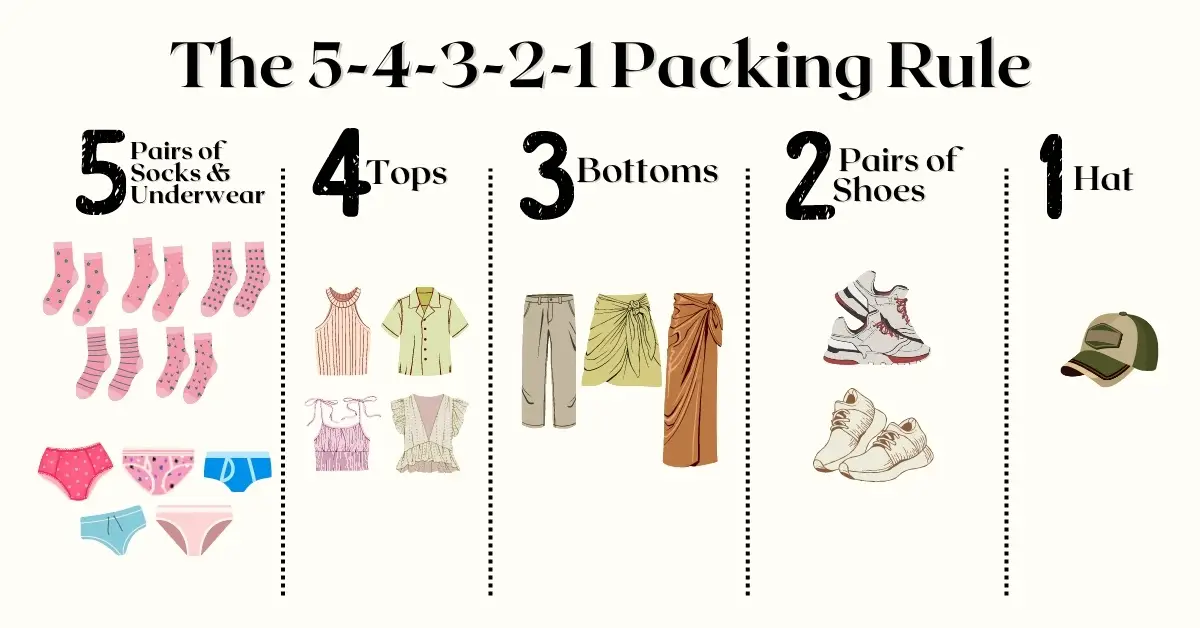 What is the 5 4 3 2 1 Packing Method?
The 5-4-3-2-1 packing method is a minimalist way of packing, where you bring no more 5 sets of socks & underwear, 4 tops, 3 bottoms, 2 pairs of shoes, and 1 hat with you on a trip. This formula, however, can be changed to meet your unique needs.
This method is ideal for 1-week trips, where you want to stuff everything in a standard carry-on bag or a duffle bag. With that said, let's break down this rule, so that you can master the art of packing light:
5 Pairs of Socks & Underwear
This rule is an obvious one – you want to make sure to change your socks and underwear every day to prevent dirt, infection, bodily sweat, mold, and bacteria.
Even if you're not planning on doing laundry, 5 pairs of socks and underwear will be sufficient for your weeklong trip.
4 Tops
Whether it's a denim jacket or a chiffon blouse, taking 4 tops with you will surely give you a break from the travel stress. Simply pick out the most versatile, basic tops, such as graphic T-shirt, oversized blazer, or linen button-down, and you will be ready to create multiple combinations with them.
Pro tip: think about the tops that you wear the most often – they are probably the ones that need to accompany you on the trip.
3 Bottoms
3 pairs of bottoms will ensure that you can spend the weeklong trip without doing laundry. Consider bringing staple bottoms like linen pants, a comfortable pair of jeans, or a wrap skirt – the selection should depend on the climate of your destination.
Additionally, it's crucial that the bottoms of your choice match with the tops. Simply pay attention to the overarching color scheme of the items and limit them to three matching colors. This way, you will mix and match each garment to craft coherent outfits for various occasions.
2 Pairs of Shoes
When it comes to the shoes department, always prioritize comfort over style, and choose sneakers that can fold or take up less space in your bag. For ladies, lightweight ballet flats that can fold are a great option.
Limit the selection to versatile, mostly daytime, shoes, such as a comfortable pair of sneakers and a pair of leather loafers.
1 Hat
A hat can either dress up or down an outfit, so make sure that it complements the rest of your items. For ladies, a simple fedora hat can make any outfit chic and put together – whether it's while going to the beach or enjoying a night-out with friends.
For gentlemen, the most popular style is the baseball cap, which is a staple that can be worn when hiking, jogging, attending sports games, or going to the bar with friends.

The 5-4-3-2-1 Method: What to Avoid
The most common mistake that people make when following the 5 4 3 2 1 packing method is not creating extra space in their luggage. Leaving around 15% of your luggage space free is essential – this way, you will be able to squeeze in some unexpected purchases, souvenirs, or any other additional items that your journey might bring you.
However, what's the best way to free up some space in the smallest bags when following the 5-4-3-2-1 packing method? Let's find out.
Bring Multifunctional Items
When mastering the art of packing light, you need to conceptualize your ordinary items as multifunctional, so that they can serve you in different scenarios and settings. For instance, a chic makeup pouch can work as an evening clutch on a romantic date, and a simple graphic shirt can be reimagined as a beach cover up.
When following the 5 4 3 2 1 packing method, consider tops and bottoms that do double duty, such as versatile accessories, reversible jackets, or silk scarves, which, in fact, can be worn as halter or bandeau tops.
Pro tip: rather than packing separate long- or short-sleeve tops, you can choose a top with roll-up sleeves, so that it can serve you both ways.
Invest in Packing Organizers
Saving space in an overflowing bag is hard. However, you can utilize compression or vacuum bags, as well as compartment organizers, to bring some harmony to your luggage.
While traveling, you may rummage through your suitcase to find the right item – only to find that you have a lot of detangling to do. Packing cubes can help you avoid this. They not only free up more space in your luggage but also help you stay more organized throughout your trip.
Alternatively, you can consider rolling your clothes, instead of compressing them into organizers. This way, you will be able to minimize wrinkling while saving space.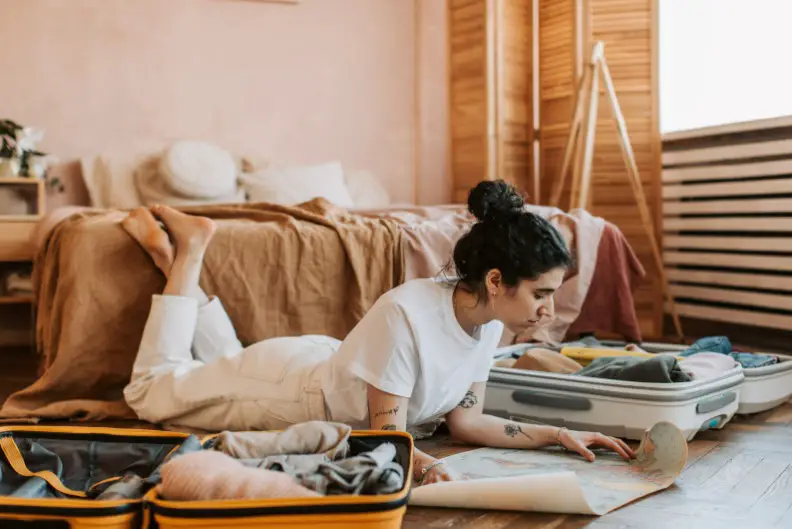 Conclusion
Whether you're a rookie or a newbie hodophile (a.k.a. travel enthusiast), you will benefit from the 5 4 3 2 1 packing method, which will not only save you space but also keep your luggage hassle-free.
So, say goodbye to searching for the right item in your luggage endlessly! This minimalist packing method will equip you with all the essentials, so that you can keep re-wearing your garments and look put together in various settings.