With the snowballing crisis of the fashion industry, we all are cautious about what brands to buy from. When it comes to budget marketplaces like Shein, Fashion Nova, and Zara, low prices tend to be a sign of a myriad of ethical issues, such as modern slavery, non-biodegradable fabrics, and violations of human rights. Albeit affordable and popular, these brands are the very antithesis of sustainable fashion.
A global marketplace that emerged from the East, YesStyle an all-in-one e-commerce platform for K-beauty, shoes, and fashion from Korea, Japan, and Taiwan. The marketplace features a wide variety of apparel for men, women, and kids at affordable prices. However, does the low price range mean that the transnational retailer is another fast fashion conglomerate? Let's find out.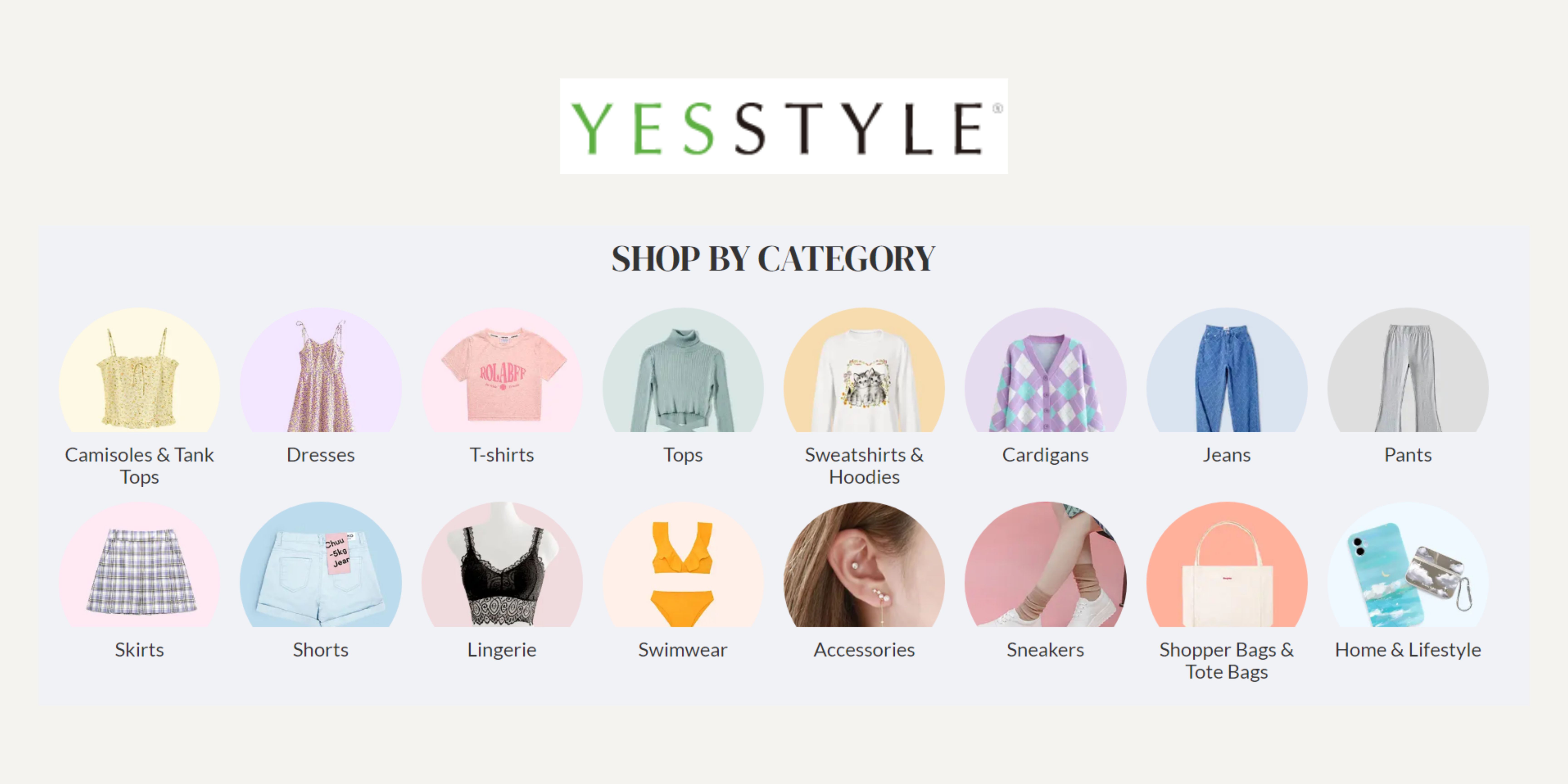 Is YesStyle Fast Fashion in 2023?
With the absence of consumer-facing sustainability reports, YesStyle is fast fashion brand that features polyester materials, trendy styles, and low prices. The marketplace meets the demand for affordable trending clothes while generating textile waste and harming the environment.
History of YesStyle.com
Launched in 2006, YesStyle is owned by YesAsia.com Ltd, which is a widely recognized multinational trademark. Focusing on Australian, Canadian, and American markets, the marketplace derives the largest portion of its sales from the United States.
As of 2022, the global net sales of the marketplace amounted to $450 million, ranking #95 in the top companies across the U.S. fashion sector. Headquartered in Hong Kong, the store boasts of 8.5 million total visitors to its website, ranking right below PrettyLittleThing.us and NYandCompany.com in terms of popularity.
Reviewing the Product Selection
YesStyle sources its products from all over the East – particularly, South Korea, Hong Kong, Taiwan, Japan, and China. Notably, the store carries Japanese apparel from the world-famous Shibuya 109 department store, featuring brands like Liz Lisa, MeJane, MA*RS, and GOLDS Infinity.
Be it casual styles, modern office wear, accessories, or beauty products, the marketplace's products are carefully curated by "in-house stylists."
Besides, the products are inspired by K-pop stars and their fashion – YesStyle even offers website sections like "celebrity style", "wardrobe wizardry, and "trendspotting", featuring TikTok, celebrity street style, or general fashion inspiration for their products.
Is the Marketplace Using Dropshipping?
Consumers raise concerns about YesStyle's business model, speculating that the marketplace uses dropshipping. For instance, a consumer on TrustPilot claims that the marketplace does not "own anything" and purchases its products from other suppliers – due to this, the delivery is "slow, unreliable, and very difficult to return."
While YesStyle operates as a direct-to-consumer store, it does drop ship a certain line of items. This means that while the retailer keeps its products as stock, it also ships out products directly from the manufacturers.

On its customer service FAQ section, YesStyle states that its products are genuine and are sourced from reliable suppliers. It obtains its K-beauty products directly from South Korea, from where they're sent out to their Hong Kong warehouses for overseas shipment and delivery.

Moreover, the company discloses that items with a "Made in Korea" tag are entirely manufactured in South Korea. However, those without it may be sourced from South Korean suppliers while being manufactured elsewhere.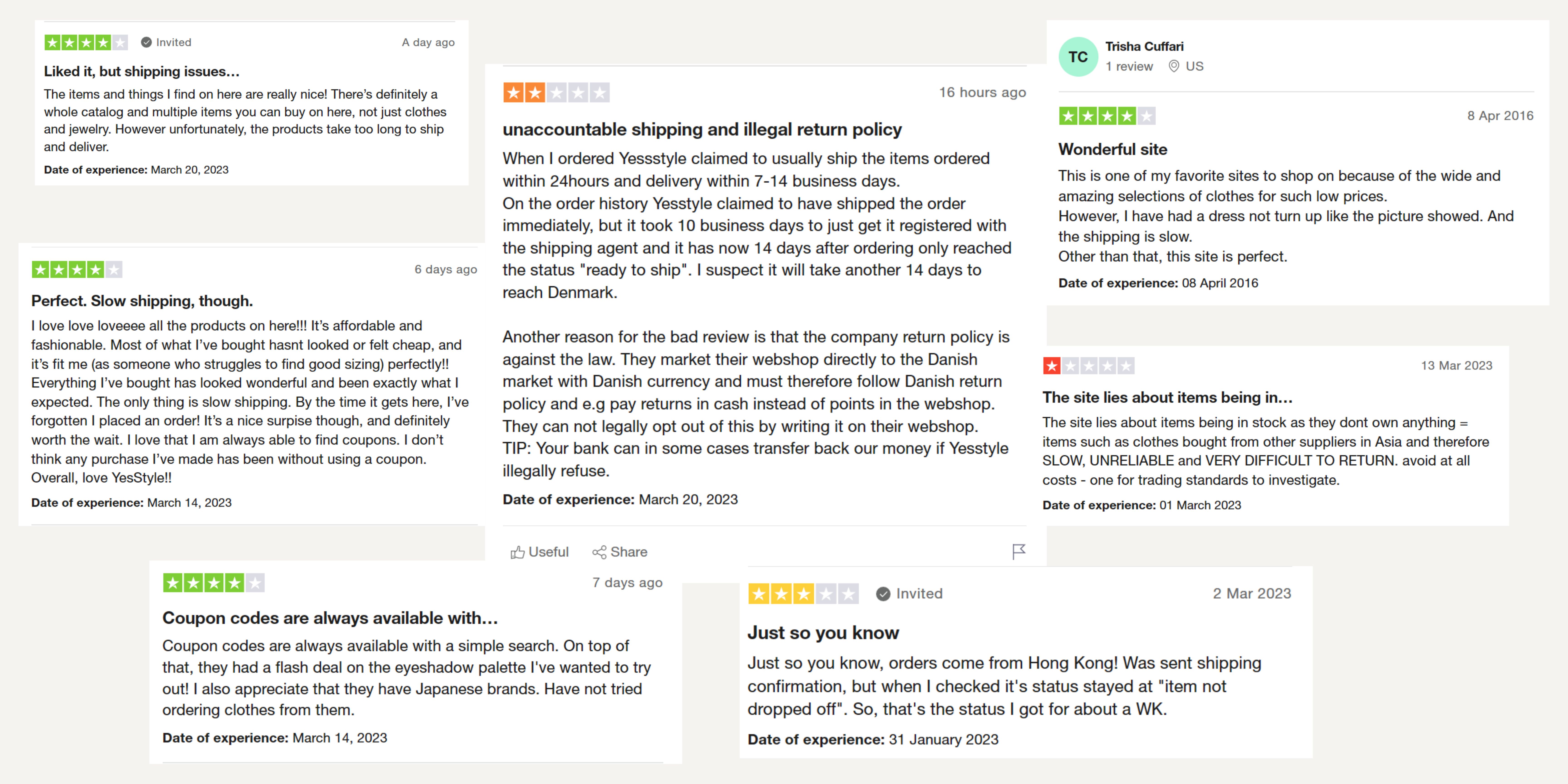 Is YesStyle Fast Fashion According to Its Customers?
With its wide selection of Asian beauty and apparel, the platform bridges the gap between Western consumers and Eastern brands. In other words, the marketplace helps niche brands to penetrate the Western market, and its main focus lies in "novel products, exotic ingredients, and affordable prices."
However, what's hiding behind this benevolent mission is a lack of quality across the entire product assortment. In fact, while K-beauty enthusiasts appreciate their purchases, fashion consumers express their dissatisfaction with the quality of clothing.
Promotional Offers: Saying "Yes" to Up-To-The-Minute Styles?
There's a reason why Shein, Fashion Nova, and Romwe are so popular among Gen Z'ers and Millenials. Their trendy product lines appeal to the masses and lure them into the hamster wheel of fast fashion. These brands hop on trends quickly and refresh their product offering constantly – ultimately, treating clothing as a cheap, convenient, and disposable commodity.
Similarly, YesStyle fires up the instant gratification appetites of its consumer segment. With coupon codes and flash sales, it attracts Millennial or Gen Z consumers who prioritize excess over quality, which is the antithesis of sustainability.
In fact, the mission of the K-Fashion collection is to "make the dream of being 25 years old forever a reality for all woman that is the most radiant and beautiful", as noted by the featured K-Fashioned designer, Chuu.
Moreover, as mentioned by the company, YesStyle strives to "bring the latest trends", along with Asian brand names, to the global market. Such emphasis on trends lies at the core of fast fashion – just like fast food, the brand's poor quality yet low prices are truly addictive.
Pricing, Shipping, and Manufacturing: YesStyle's Fast Fashion Trifecta
Fast fashion has become ubiquitous, due to the prevalence of cheap, fast, and offshore manufacturing. Each year, around 100 billion clothing items are produced globally. This has led to a whopping 400% increase in consumption of clothing in the last two decades.
Given that, the hyper efficient nature of the marketplace, in tandem with affordability, raises many questions about its manufacturing practices. Could it be that YesStyle hides unethical labor practices and environmental damage behind its stylish products? Let's find out.
Shipping Policies
The marketplace offers premium standard shipping when customers spend at least $50 on a single order. However, many customers complain about the speed of delivery, which takes more than the "21 days" – the promise that the company often fails to deliver.
Regardless, the marketplace's pursuit of fast shipping replicates the fast fashion business model. While reputable luxury brands produce items on a made-to-order basis, YesStyle strives to distribute its products from one side of the planet to another in mere "21 days" (or "7 days", in case the products are in stock!).
Be it next day shipping or rushed delivery, fast fashion purchases harm the environment with high carbon emissions. As the packages travel by air, YesStyle encourages carbon-intensive, expedited shipping practices, which not only increases packaging waste but also creates a notorious amount of pollution.
Manufacturing: The Polyester Issue
Browsing through the fashion segment, you may notice that the majority of YesStyle's products feature synthetic fabrics like polyester, acrylic, and nylon. However, the marketplace doesn't necessarily disclose the exact fabric compositions of its products, labeling certain products as "100% mixed fabrics."
This is extremely problematic since the use of synthetic fabrics leads to a myriad of environmental issues, such as pollution, the destruction of wildlife, or the spread of microplastics in nature. The CO2 emissions caused by synthetic fabric production are high, as they are made of fossil fuels like crude oil.
Therefore, YesStyle's wide selection of clothing and accessories that are made with synthetics – be it polyester handbags or acrylic cardigans – are the building blocks of fast fashion. As oil-based plastics, they pollute the air, soil, and water while taking up to thousands of years to decompose.
Consumer Responsibility
As of now, the fashion industry fails to formulate a way to recycle synthetics fabrics, which are non-biodegradable or recylable. Due to this, almost 60% of synthetic clothing gets disposed within a year of its production.
Moreover, across the entire fashion industry, only 1% of materials get recycled, which highlights the importance of consumer responsibility in fabric selection.
Avoiding brands like YesStyle that produce non-biodegradable clothing is crucial. in a circular economy, materials should last for as long as possible while minimizing waste. For this reason, our individual actions should send a strong message against the brand's promotion of temporary trends, powered by cheap, synthetic textiles.
Take Action Today – #WhatsInMyClothes?
As a customer, you have the right to find out where your clothing was sourced and how it was made. In other words, you have the right (or even the responsibility) to track the supply chain of your favorite brands.
So, get in touch with YesStyle today and inquire about #WhoMadeMyClothes, #WhatsInMyClothes, or any other sustainability-related concern. Simply head over to YesStyle's 'Contact Us' page to demand more transparency and hold the brand accountable for its unethical practices. Your activism will surely bring forth actionable results.

Final Thoughts
Say "yes" to style but "no" to sustainability? The prevalence of low-cost, trendy clothing on the marketplace is obvious. However, is YesStyle fast fashion in 2023? Our verdict is yes. The brand refuses to disclose elaborate information on its supply chains, business practices, and impact on garment workers overseas.
By this, YesStyle avoids consumer feedback, as nobody can track its policies and practices from overseas to the Global North. The brand's absence of corporate transparency results in its blatant use of synthetic fabrics, questionable pricing strategies, as well as overproduction of trendy yet synthetic clothing.