Shein is a well-known name in the fast fashion space, whereas Cider is a newbie brand. At a glance, both brands seem to sell dirt cheap yet stylish designs, with similar 'viral' designs and trends. However, is Cider as bad as Shein when it comes to sustainability? We're here to provide the answers, exploring the pricing, ethicality concerns, and underlying principles behind both brands.
Is Cider As Bad as Shein?
Despite their greenwashing schemes, both Cider and Shein are considered ultra-fast fashion brands. They operate upon fast-paced production and consumption cycles, adopting the so-called 'smart fashion' system, where they swiftly manufacture exactly what consumers desire – with no regard towards the environment or workers' rights.
What is Cider? Following Shein's Footsteps
Regarded as a "Shein wannabe", Cider employs influencer marketing to push their products onto the mainstream consumer. The brand's social media presence on TikTok and Instagram, amassing 850k and 4.9 million followers, respectively, features nano- and macro-influencers trying on their products.
Flaunting the #cidergang hashtag, influencers showcase their Cider outfits to their followers, ultimately, appearing on the official brand page as first-hand suppliers of user-generated content. What this means is that influencers share their experiences with Cider products, which later influence the opinions of consumers. This is pivotal when it comes to Cider's success.
How Shein & Cider Use Influencer Marketing
Both Cider and Shein leech on influencer culture as a means to push microtrends, overconsumption, and impulse buying. Through haul videos and OOTD posts, fast fashion influencers concoct seemingly-authentic social media buzz. By this, they imbue the brands with popularity, excitement, and most importantly, relevance.
With lucrative commissions and sponsorships, Shein and Cider collaborate with well-known celebrity names, as well as TikTok stars, portraying them as brand ambassadors. In fact, during its first launch in 2018, Shein collaborated with roughly 2,000 influencers in India alone.
Cider, specifically, has been hailed as "TikTok's new favorite brand", as it churned out pastel-colored trends in 2021 that resonated with fashion's zeitgeist at the time. The brand managed to establish microtrends thanks to influencer endorsements.
In its 'Hall of Fame' section, the Cider website showcases celebrities and influencers, such as Avani Gregg, Lisa from Blackpink, Angele Van Laeken, and so on, wearing their products, inspiring shoppers to emulate the stars through their fashion choices.
Manufacturing Sites Located in Guangzhou, China
Did you know that Cider and Shein source from the same province in China? Yes, they both manufacture their products in Guangzhou, China, infamous for poverty wages and poor working conditions.
Let's remember a recent scandal, where Shein sponsored influencers to visit their manufacturing sites in Guangzhou. Doing so, the brand attempted to recover its reputation as a perpetrator of modern slavery. However, these damage control efforts ultimately backfired, as many influencers halted their partnerships with Shein and boycotted the brand.
Truly, a third-party investigation, conducted by Intertek and TUVR, determined that Shein workers were "working 12.5- to 13.5-hour-long" shifts. The brand's factories continuously violated local labor laws. In fact, in its documentary, "Untold: Inside the Shein Machine", Channel 4 exposed Guangzhou factories for keeping their workers' pay on hold.
Similarly, Cider sources products from Guangzhou factories and potentially partakes in modern slavery, despite its claims not to.
Cider Greenwashes Around Its Manufacturing Sites
On its official website, Cider boasts of ethical certifications, such as BSCI, SMETA, and SEDEX, obtained by its factories in China. The brand claims that its suppliers follow humane manufacturing standards. For instance, it states that one of the suppliers, Guangzhou Weixin Garment, uses "an anonymous feedback system" to receive honest feedback from workers and encourage transparency.
This, however, is a blatant lie. In fact, Cider refuses to disclose information on working conditions and wages of its manufacturers, which undermines its transparency.
Besides, when delving deep into the certifications, we learn that SMETA is neither an auditor nor is governed by lawyers. Its only role is "interpreting legal norms around modern slavery", as well as boosting the application of supply chain laws.
The Smart Fashion Model: Streamlining Production
Fast fashion brands, such as BloomChic, claim to employ a smart fashion system, in which they predict inventory accurately and prevent overstock. This real-time production method helps the brand assess what the customers want, rolling out products accordingly. And while this system, in an ideal scenario, would enhance sustainability, it allows brands to speed up the product turnaround, ultimately benefitting them, rather than the planet.
By the same token, both Cider and Shein refresh their collections every week – under the guise of streamlined manufacturing. They employ data-driven forecasting models, where they analyze customer data and social media trends to assess demand for their products.
Moreover, meeting relentless demand from consumers, Cider and Shein eliminate the middleman. They accelerate the production timeline, delivering items from the manufacturer directly to the consumer.
As a result, Cider and Shein end up operating under the ultra-fast fashion system – a system that churns out thousands of styles weekly or daily, establishes fleeting micro-trends, and manipulates digital channels to fuel overconsumption.
Shein And Cider: The Use of Gamification
There are many things that drive consumption – personal motivations, novelty-seeking, and life needs. However, fast fashion is notorious for triggering shopping addiction via never-ending collections, aggressive advertisements, and most importantly, gamification of consumption.
Without a doubt, both Shein and Cider perpetuate compulsive shopping. Yet, they do so through digital apps, where shoppers accumulate points as they shop and invite their friends to the app.
To illustrate, Cider offers a "Share & Earn" event, where you urge your friends to download the Cider app and generate store credits. What's more, when you make a purchase on the Cider website, every dollar you spend equates to 10 points accumulated. You also collect points by writing reviews, including images in them, entering your measurements, and completing your user profile.
By the same token, Shein urges shoppers to earn points by posting reviews – for instance, if your images get selected for display, Shein grants you a bonus of 50 points. However, there's more to it, as the brand takes gamification to another level.
When users check in daily into the Shein app, they earn additional points, which fuels their shopping addiction and bombards them with new items daily. What's more, Shein runs the so-called "outfit contests" – where the top 12 participants collect rewards in the app – transforming regular shoppers into brand ambassadors.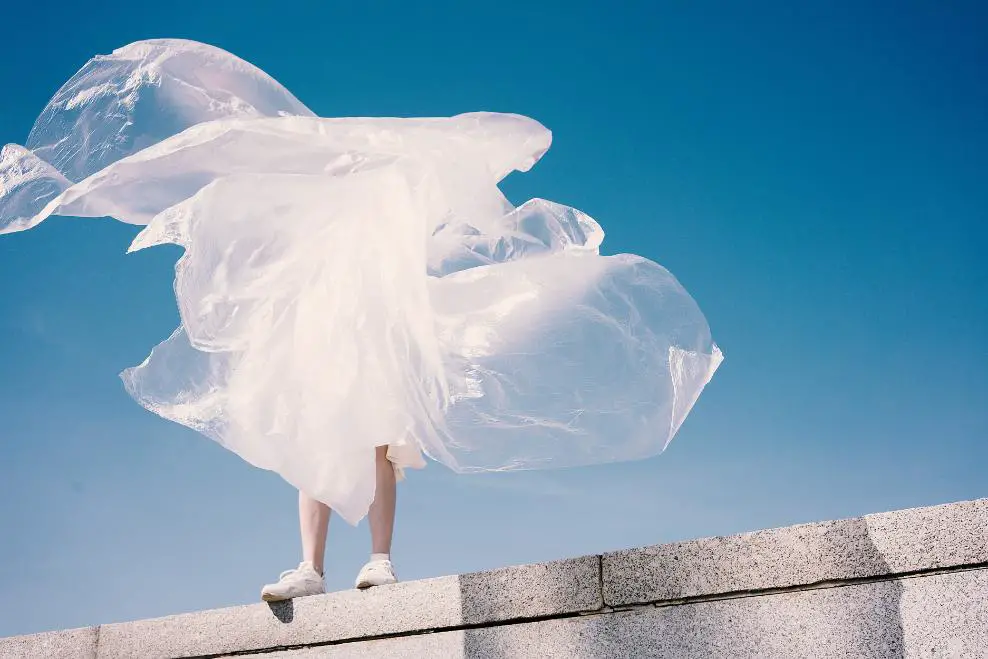 Is Cider Democratizing Fashion With Cheap Clothing?
In the sustainability section of its website, Cider claims to "create affordable, everyday statement pieces" with an emphasis on sustainability. This sounds quite far-fetched, considering that it is the fashion democratization that bombarded us with textile waste. The utopian vision to mass-produce clothing for globalized consumption never works in the real world. Rather, it has a detrimental effect on the environment.
Yet, Cider appeals to the idea that anyone, regardless of their income, can purchase garments for under $20, which is not only misleading but also harmful for the way we consume clothing. The brand overproduces under the pretext of democracy, stating that "sustainable fashion should be accessible, not exclusive."
However, Cider doesn't have the best interests of their consumers at heart. Clothes should not be perceived as disposable. What's more, they should not be produced at the expense of nature and society.
By portraying their products as disposable yet benign resources, Cider destroys the very essence of fashion, which should lie in exclusivity, uniqueness, and conscious style. After all, just by analyzing the brand's self-portrayal as "your closet's happy hour", we can arrive to the conclusion that Cider marginalizes sustainability, encouraging reckless consumption behavior through unhealthy choices.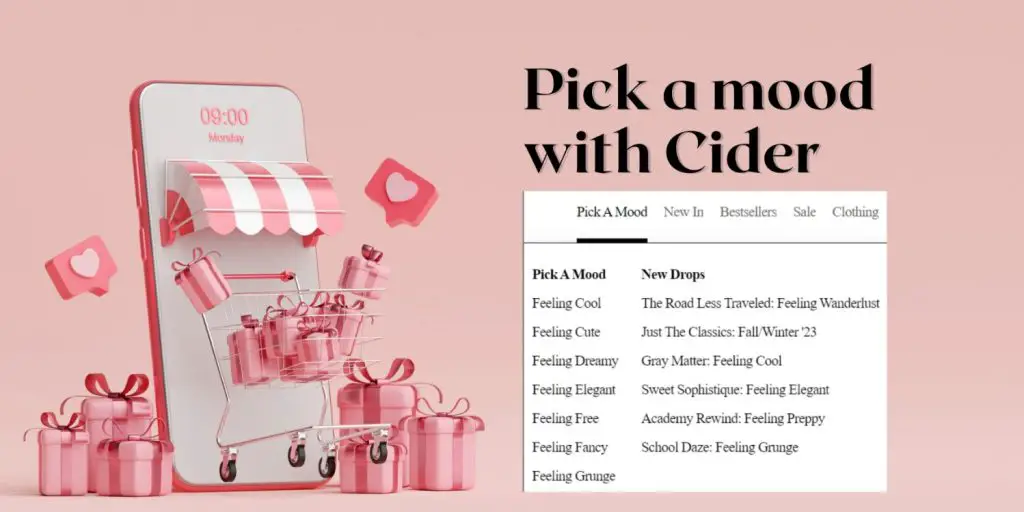 Cider's Shop by Mood Category
Shopping by mood, rather than necessity, is a recipe for overconsumption. However, the brand goes against this idea. In its category section, Cider encourages its customers to "pick a mood" – whether it's "unbothered", "grunge", "nostalgic", "minimalistic", or "free."
Based on the selected mood, the website generates a myriad of garments that resonate with the consumer, offering an element of personalization to the shopping experience.
This is not something new in the fast fashion space, as Shein has already been integrating personalization elements in its loyalty apps. For instance, the Shein points program allows users to set your preferences for categories and styles, generating clothing recommendations accordingly.
Overall, personalization makes consumers feel heard, as it resonates with their demographics, style preferences, and behaviors. However, it presents fashion a tool for novelty-seeking and even self-soothing, where people buy clothes not because they need them, but rather based on their mood – be it positive or negative.
The Final Takeaway: Cider is Just as Bad as Shein
In conclusion, Cider is as bad as Shein. This is evident in the brand's lack of transparency around its ethical labor practices, pervasive influencer marketing, as well as gamification strategies that cultivate unhealthy shopping habits.
Overall, Shein and Cider not only exacerbate the textile waste problem, modern slavery, and pollution but also mold clothing as a temporary relief from boredom. They sell to us the thrill of excitement, as young people – the primary audience of brands like Cider and Shein – feel the pressure to keep up with microtrends on TikTok at all times.