Hopping on the sustainability trend, Aritzia is among the many companies today that aspire for a greener future. The company comes off as very transparent about its sustainability initiatives. In 2020, Aritzia pledged openly to become carbon neutral, accounting for 100% of the carbon they emit through their offices, stores, and distribution centers.
In the same year, Aritzia announced a donation of a thousand of their signature Super Puff jackets to underprivileged Canadian women and adolescent girls during winter holidays. The campaign was a part of the brand's Community Giving Program, which empowers the local community suffering from socioeconomic obstacles.
However, is Aritzia, despite all this, a fast fashion brand, and have we been greenwashed? Let's find out.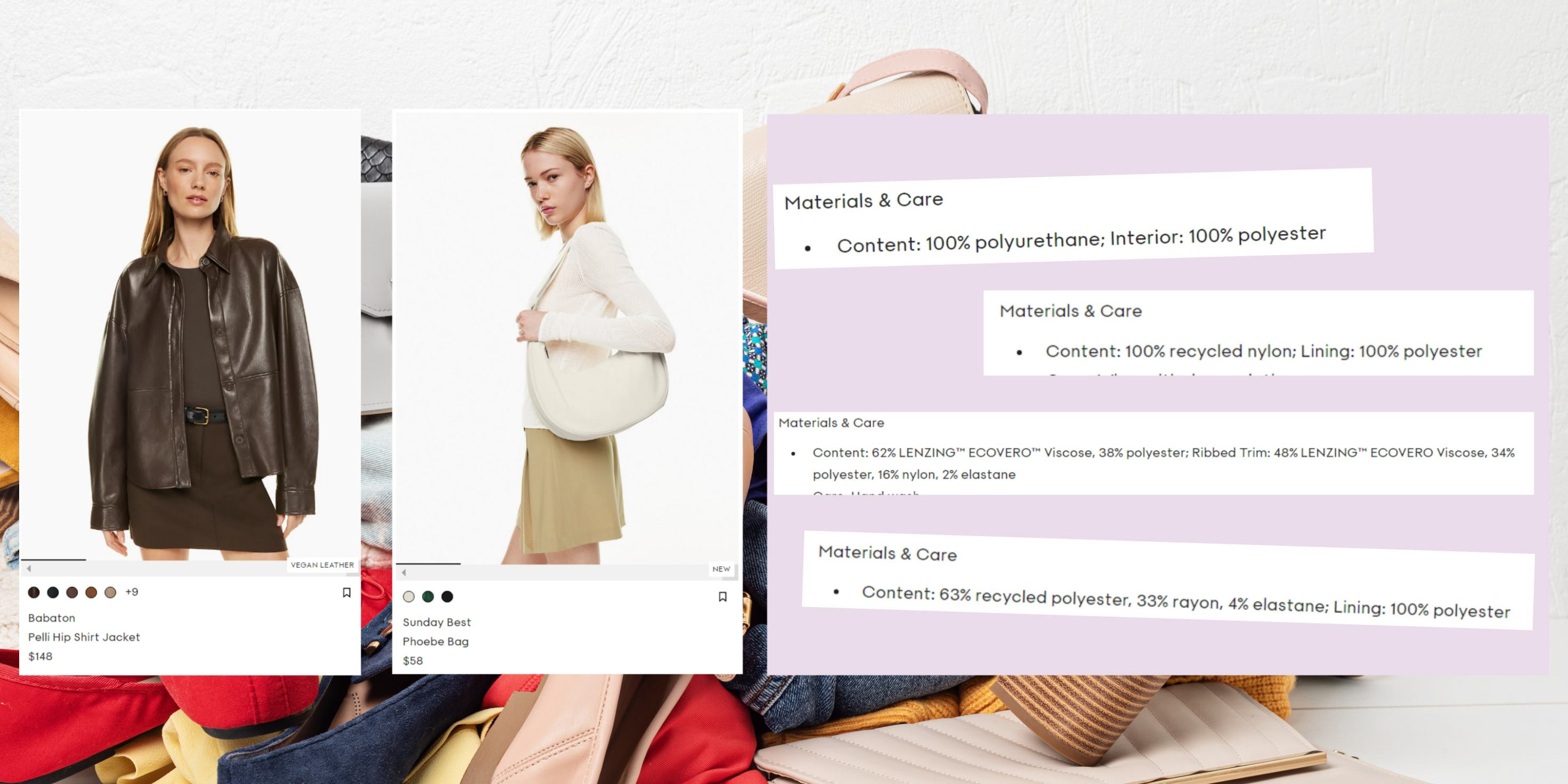 Is Aritzia Fast Fashion?
A premium Canadian brand, Aritzia strives to deliver 'Everyday Luxury' with a simple mission – offering luxury items with top-notch service, in aspirational spaces. Doing so, however, it perpetuates the fast fashion model via the use of synthetic fabrics, reputation management, and greenwashing. Yet, the company protects its image, as it's difficult to find third-party reports on its practices.
Aritzia And Sustainability: What We Know So Far
The brand's sustainability initiatives date all the way back to 2010, with Aritzia banning fur – paradoxically, all the while continuing to use wool, down, animal hair, and leather.

Up until today, Aritzia has been claiming to use more ethically sourced materials – namely, recycled fabrics made of plastic bottles, wool, and down, as well as organic cotton. Yet, these materials have made up only about 40% of their SS21 collection, which leaves us wondering how the remaining 60% have been sourced.
The brand has yet to provide any evidence of actually reducing the use of harmful chemicals and the emission of greenhouse gases. Besides, it hasn't launched an accessible recycling program, which could mitigate the waste of its end-of-life products.
Yet, on the PR front, Aritzia has proudly joined the Sustainable Apparel Collection and Better Cotton Initiative, working with the Better Work program and becoming a member of the Textile Exchange, as a step towards sustainability. This signals the brand's willingness to set measurable goals and commit to green causes, which is a potential step toward driving real-life impact.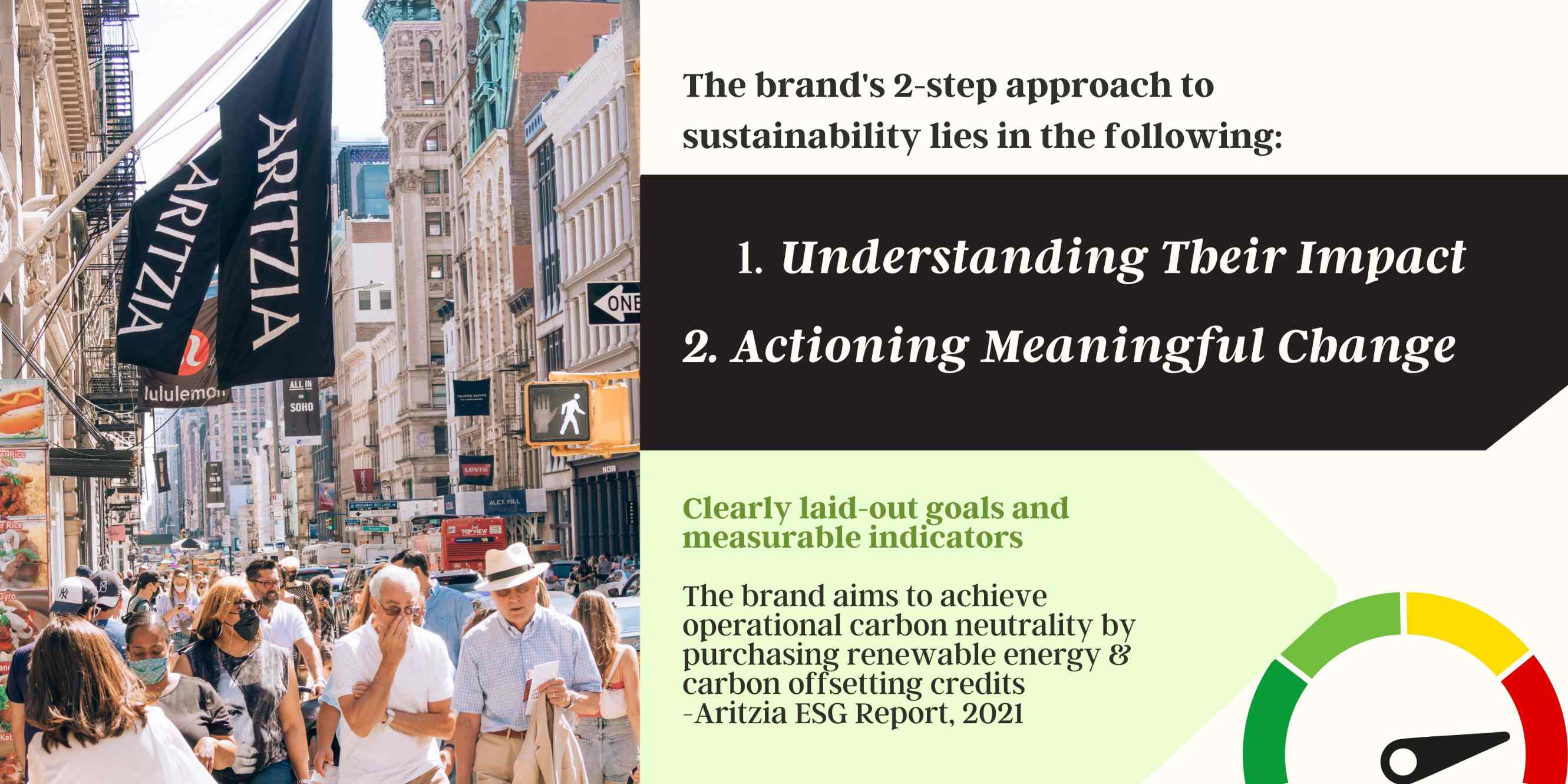 A Failing Sustainability Mission?
Paradoxically, there are many contradictions within Aritzia's official statements – namely, the initiative of "achieving carbon neutrality for the second year in a row across all their operations", despite failing to provide any evidence as to doing so.
Aritzia has been given an overall 11-20% score by the Fashion Transparency Index, worse than last year's score of 21-30%, which is mainly because of their traceability, or a lack thereof.
Fashionable Minimalism or Just Consumerism?
Aritzia's appeal revolves around fashionable minimalism. Similar to brands like Everlane and Black Crane, the brand crafts premium quality, minimalist products – mostly in neutral colors like white, beige, grey, and black.
While at a glance, the brand promotes buying less but high-quality, it still reframes minimalism as a form of conspicuous consumption. This is evident in the brand's focus on influencer marketing, with Kendall Jenner sharing a photo of her Super Puff coat proudly with her enormous audience of 100 million followers.
Influencer marketing is a known tactic to promote fast fashion. In fact, one of the biggest fast fashion conglomerates, Fashion Nova, managed to achieve a growth rate of 600% in a year, thanks to its strong network of influencers.
After all, mainstream consumers scrutinize the brand endorsements of their idols, flocking to fast fashion stores at lightning speed to dress just like them. And with its influencer marketing efforts, Aritzia definitely strives to get a piece of the 'See Now, Buy Now' pie.
The Trap Behind Minimalist Designs
Action speaks louder than words, but in fashion, designs speak louder than any kind of PR or marketing effort. With its minimalist silhouettes, Aritzia forges a false sense of sustainability – a cheap imitation of what consumers tend to encounter in small-scale, sustainable fashion brands.
The subliminal message behind simple cuts and sleek designs lies in the idea that the brand is eco-friendly. However, the truth is, the brand lacks the real-life evidence that would deem it sustainable. After all, higher prices do not always translate into better practices.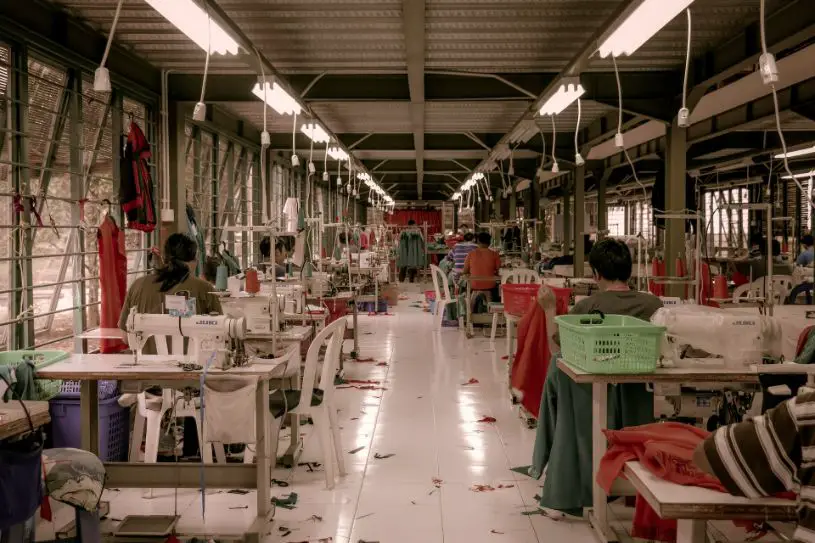 Does Aritzia Use Ethical Labour?
When it comes to labor and the creation of ready-to-sell items for Aritzia, they've partnered with fabric suppliers and factories in countries like Vietnam, Turkey, Romania, Cambodia, and China, but we do not know more specific information on whether forced labor is involved or where the clothes are made.
Remarkably, the brand promises to never source materials or services "in regions tied to forced and child labor" in its supply chain. However, its products are tied with problematic countries in the Global South, where workers live below the poverty line and work in dangerous conditions.
Only a fraction of Aritzia's suppliers is certified by labor standards, which ensure worker health, safety, and labor rights. This is yet another indicator that Aritzia is, in fact, a fast fashion brand.
Moreover, Good on you has rated their labor standards as "not good enough", due to the lack of evidence around the company's commitment to paying its workers a living wage. Lacking transparency in its supply chain, Aritzia implements questionable practices to support diversity and inclusion, and the third-party reports proving otherwise are severely lacking.
The Not-So-Sustainable Materials
Aritzia strictly bans the use of real fur and Angora rabbit hair in its products. However, these materials are replaced with a myriad of synthetic ones, such as the so-called 'vegan' fur' (made of nylon/polyester) and PU leather, which are proven to be dangerous to both the planet and our health.
On its official website, the brand states that it strives to minimize animal suffering by using materials accredited by the RDS (Responsible Down Standard). Yet, this is not a guarantee of animal welfare.
Why is Aritzia So Popular?
The reason behind Aritzia's popularity lies in its trendy brick-and-mortar stores. The retailer has been operating over 100 boutiques in Canada since its launch in 1984, as it has become one of Canada's most popular brands ever since. It caters mostly to women through chic, elegant, and minimalistic mid-priced pieces, which are sold in the most unique, urban spots.
In fact, the brand relies heavily on physical stores, as its e-commerce sales only amount to the 33% of the total revenue. Like Mark Petrie mentions, Aritzia's stores lay at the "intersection of value and quality", which cultivates an inviting aura, luring consumers to linger in the store for longer and purchase more clothing (either now or later online).
What is Fast Fashion and How to Tell if a Brand is One?
Fast fashion is cheap, trendy clothing, inspired by high fashion or celebrity culture. Trickling down from luxury brands, trends spread to the lower tiers of production at an insane speed, with brands like Shein, H&M, and ROMWE catering their products to the mainstream consumer.
Fast fashion brands recreate high fashion designs through the use of cheap materials, forced labor, and production sites overseas. Producing clothes in developing countries, they refuse to pay their workers a living wage – this translates into months of hard work for almost no money, that is, modern slavery.
Besides, the fast production in fashion has led many brands to shift from the initial 4 fashion seasons to 52 seasons, refreshing their collections in a matter of a week to keep up with the competition on the market.
The main things that really stand out in a fast fashion brand are the following:
The Use of Synthetic Fabrics
The most obvious way to tell whether a brand is fast fashion is by looking at their fabrics and materials.
Most fast fashion brands utilize synthetic materials like polyester, nylon, and acrylic, which are highly polluting yet extremely cheap to source, as compared to biodegradable, natural materials. So, beware of brands using synthetic fabrics or refusing to disclose fabric compositions of their items – these are the common red flags among fast fashion brands.
Overproduction
Fast fashion brands create cheap and low-quality clothing in huge quantities, which are meant to be disposed and replaced by new items as soon as possible.
For this reason, the mainstream consumer is reluctant to invest in quality items. After all, their demand always shifts, trend by trend. As a result, brands overhaul our wardrobes and burn unsold clothing once it 'expires' and is no longer in vogue.
Lack of Transparency
Fast fashion brands never disclose information about their production quantities, fabric sourcing methods, manufacturing sites, or factories. If a brand doesn't provide much information about its supply chains, there is a good chance that it may not be exactly ethical.
As a consumer, you should have the right to quickly obtain relevant data about factories, countries of production, and labor regulations of a given fashion brand. A brand that's not willing to share that kind of information is not trustworthy.
Greenwashing
Greenwashing is becoming a major issue in the industry – it is the modern-day weapon against the truth, used to increase sales and position brands in a better light. With 'conscious collections', fast fashion companies like H&M greenwash consumers via eco-friendly statements and exploit their good conscience.
The brands mislabel garments as natural, bio, organic, or recycled – when, in fact, only a portion of the fibers are actually eco-friendly. Generally, retailers will oftentimes only showcase what the consumer wants to see, so, make sure to consider the entire fabric composition, do the background research, and look beyond false labels.
Is Aritzia Fast Fashion? Our Final Verdict
With all this in mind, it is time for the final judgment of this particular Canadian brand. Taking into account their commitment to sustainability, yet their lack of evidence to back up almost any of their public claims is concerning.
The fact the brand seems to very conveniently exclude crucial information, such as where its factories are located or who makes its products in more detail, is yet another red flag raised. In conclusion, don't let the premium prices fool you – Aritzia is most likely a fast fashion brand.
FAQ
Is Aritzia Considered Luxury?
With trendy yet affordable pieces, Aritzia appeals to mid-luxury and mainstream customers –particularly, Gen Z and Millennial women. The brand stands at the intersection between luxury and fast fashion, producing durable clothing at affordable prices.
Is Aritzia Clothing Expensive?
Justified by overhead costs like rent, in-store experience, and staff compensation, the outrageous prices of the Aritzia apparel reflect high costs of brick-and-mortar retail.
What Age Group is Aritzia For?
Aritzia's market share is spread across its 18.87% male and 81.13% female customer segments. Overall, the brand targets Gen Z and Millennial consumers aged 18-24 years old.
Why Do Consumers Like Aritzia?
People enjoy shopping at Aritzia because of their beautiful store designs and immaculate in-store experiences. Besides, they sell affordable, chic items, which appeal to fast fashion consumers who turn a deaf ear to the brand's sustainability.