The first thing that catches people's eye is the colors that you're wearing. Get the overall color scheme wrong and the entire outfit can become lackluster.
So, whether you're a bottle or natural blonde, choosing the right colors for your wardrobe is crucial. Your clothes should not overpower your overall color scheme, making your features stand out, rather than fade away in the background.
Luckily, blonde hair provides you with a versatile color base that's easier to work with. Given that, let's explore how to choose the right color scheme as a blonde and build your dream capsule wardrobe: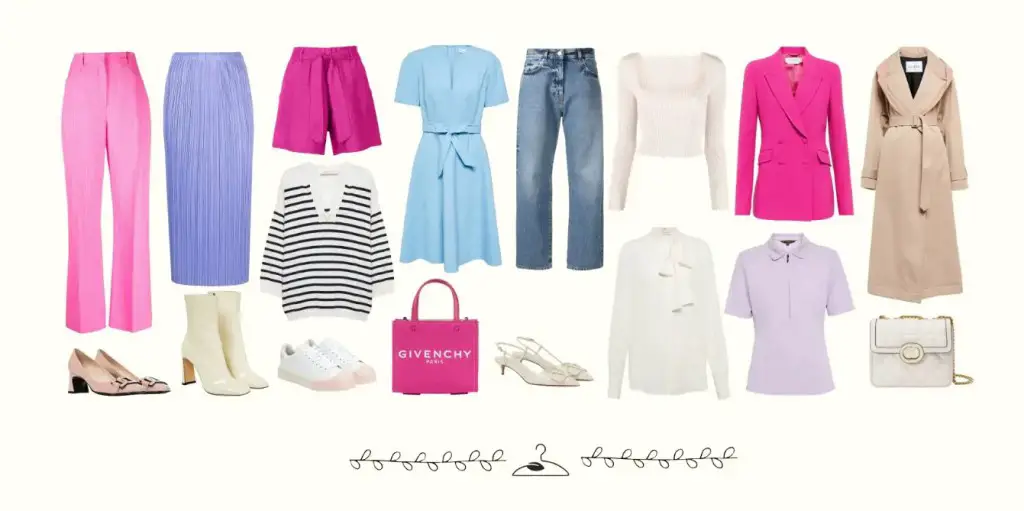 Capsule Wardrobe For Blondes – The Basic Blueprint (With Not-So-Basic Colors!)
Forget the boring beige, white, and cream blueprints that make you look like an ironing board. As a blonde, the last thing you want is look lackluster in your outfits, which is what happens with monochrome, low-contrast color schemes. Instead, experiment with vibrant colors that bring out the best in you!
Magenta, lilac, and white – these are the primary colors, around which we've built our blueprint of capsule wardrobe for blondes. In this selection, there are following 17 items that can be worn trans-seasonally – both in warmer and colder months:
Pants: 1 pair of magenta, structured pants; 1 pair of casual jeans.
Tops: 2 white shirts; 1 pastel purple polo shirt; 1 Breton sweater.
Dresses: 1 classic, belted baby blue dress
Shoes: 2 pairs of light-colored heels; 1 pair of white sneakers; 1 pair of white ankle boots.
Accessories: 1 statement tote bag; 1 versatile, white crossbody.
Colors Around Your Face Matter the Most
Blondes tend to be classified as low-contrast, which means that anything bold can overpower their look. Still, you shouldn't stay away from bright colors – instead, simply incorporate them in garments that won't overshadow your face. That is, wear high-contrast bottoms but low-contrast tops.
Above all, pay extra attention to the colors around your face, as they can draw attention toward or away from it. For instance, a high-contrast dress won't dull the sparkle of your face and blonde hair if and only if it features cleavage or an off-the-shoulder design. This way, it won't come in contact with your face, neck, and hair like a turtleneck would, for instance, resulting in a harmonious balance.
Cool Vs Warm Blondes
Depending on the undertone, blonde hair can be categorized as a warm- or cool-toned. The former would include hues like platinum, sandy, ice ash blonde, or champagne, while the latter would encompass hues like red, caramel, golden, honey, and strawberry. This holds the key to choosing colors for capsule wardrobe – ultimately, the contrast levels between your hair, eyes, and complexion determine the color scheme that elevates your look.
To illustrate, our capsule wardrobe blueprint is tailored to cool-toned blondes who would look amazing in pastel pink, blue, purple tones, as compared to warm-toned blondes who look better in sassy red, brown, mustard, and earthy tones.
High vs Low Contrast Blondes
While building a capsule wardrobe as a blonde, make sure to consider your contrast levels. As mentioned above, all blondes are considered low-contrast, however, there is more to it. Blonde is a spectrum, ranging from the lowest-contrast ice or platinum blonde to the highest-contrast light brown shades.
Deep blondes with contrasting, brown or light brown highlights will benefit from bold colors like magenta, cobalt blue, and peach. However, pale blondes will look their best in pastel hues like mint green, pale yellow, and baby blue. The key is matching the contrasts of your hair to the ones of your outfits – this way, you'll maintain the right balance needed to highlight your best features.
Creating An Authentic Capsule Wardrobe for Blondes
Let's be honest. Revamping your entire wardrobe for the sake of your ideal color scheme is not a good idea – neither in an environmental or financial sense. Rather than browsing online stores for new items, put your entire wardrobe on the radar. And ask yourself – could you possibly expand your color repertoire given what you already have?
The presence of ideal color options can be exciting yet overwhelming. With a limited color scheme, you may end up lost in a sea of color ideations and unpleasant combinations. Yet, keep in mind that famous fashion designers – whose palettes have broken through the fashion world – were not afraid of experimentation.
Incorporating The Right Accessories
Take any floral print dress, for example. One color may go well with your ideal color scheme while another may clash with it. In such cases, it's crucial to listen to your inner voice and go against the grain.
Before giving up on a garment, consider layering it with a statement piece of a jewelry that features its complementary colors. This trick is called 'colorblocking', which is the idea behind mixing colors in your outfits. The key is picking the colors that stand opposite on the color wheel, that is, are complementary to each other. After all, they are the ones that will make your outfits pop!
By harmonizing with the main color scheme, accessories of complementary hues will breathe new life into your looks. So, say goodbye to tossing items away! With the 'colorblocking' technique, you'll be able to revamp any garment in your capsule wardrobe for blondes.
Why Build A Capsule Wardrobe for Blondes
Truth be told, dressing as a blonde is quite tricky. While it may seem like every color looks good on you, it's easy to get overshadowed by some hues. Creating a curated closet for your hair, features, and complexion brings more cohesion into your outfits.
Besides, a capsule wardrobe can help you save time while getting dressed in the morning. With ready-to-go outfits, you can throw on random pieces and they will still look great together. This means that you can experiment with a myriad of outfit combinations, and be confident that they will craft a cohesive and stylish look. So, no more standing in front of the mirror for hours or feeling overwhelmed by the number of choices! A streamlined closet will help you save you precious time in the morning and look your best in an instant.