Every day is a new beginning – an opportunity to put on your favorite outfit, enjoy the weather, and embark on a new adventure. However, frustration can get in your way, as you wake up in the morning, unable to find that one pair of jeans you've been looking for. You search through your wardrobe, but with no luck.
The anxiety of a cluttered wardrobe not only ruins our day but also forces us to wear the same outfits repeatedly. Luckily, if you're struggling to store your pants in a small closet, following these 10 tips will save you time, energy, and space while ensuring easy access to your favorite items.
1. Store Based On Filters (Color, Size, Fit)
Before analyzing how to store pants in a small closet, embark on a categorization mission. Try to separate your closet into different sections, deciding where to store your items, so that their placement is easy to remember.
When you sort items based on their color, size, weight, or fit, you're saving yourself valuable time in the future by categorizing them now. Not only will you give your closet a nicer look and feel altogether, but also get rid of decision fatigue. Closet organization gets easier when you know where to find things.
PRO TIP: When assigning categories to pants, keep in mind the types of pants and their fit, such as regular, loose, boyfriend, wide leg, or jeggings, and whether they'd belong in casual, formal, athletic, or work settings.
Assign Mental Zones to Your Items
When deciding how to store pants in a small closet, it's important to organize your belongings into different mental areas, such as casual, dressier, occassionwear, or winter spaces.
Imagine your closet as a large store. When you enter, you'll see different sections – the hot and the cold zones. Think of the clothes you wear most often as "popular items," which show up in the hot zone. The ones you rarely wear are "forgotten items," which belong in the less accessible, cold zone.
By using helpful tools like rack tags, hooks, and shelf dividers, you can plan your closet layout, storing long dresses, short skirts, flowy blouses, and other items, based on their size, style, and weight, as well as their overall arrangement.
2. Find a Folding Technique That Fits Your Closet
After you've finished organizing your wardrobe into different sections, it's time to start working. If you want to put your clothes on shelves or store them in drawers, it's crucial to find a folding technique that fits well in your closet.
There are many folding techniques to choose from, but we've listed our favorites below to save you some time:
Konmari Method

: This folding technique involves folding pants in half vertically, then folding them again from the waist down.
This creates a compact and organized fold with the waistband visible. The folded pants are then stood vertically in the closet, allowing for easy visibility and efficient use of space.
Roll and File Method

: For the roll and file method, fold pants in half vertically, fold one leg over the other and tightly roll from waist to ankles. Stand the rolled pants vertically in your closet.
This is an efficient and space-saving technique that allows for easy access to your pants while keeping them wrinkle-free
Sock Fold Method

: Even though it's used for folding your socks, it can be adapted for pants storage as well. Lay a pair of pants flat, fold one leg over the other, and then fold them vertically from the waistband to the ankles. Finally, fold the pants in a horizontal manner, putting the waistband over the folded legs. 
This compact fold enables you to stand the pants vertically in your closet, optimizing space and providing easy visibility of your pants collection.
3. Add Extra Shelving
So, you have found the right folding technique and tried to store all your pairs of pants in your closet, but you still couldn't manage to fit everything in.
A simple but valuable solution is to add more shelving. If your closet allows for more shelves, then this one is a no-brainer for maximizing and making the most out of your closet space.
4. Store Pants Vertically
If folding and stacking your pants isn't your thing, then you will probably hang them vertically on your closet rod. This has multiple benefits over folding, as it will prolong the life of your pants and keep them wrinkle free, while saving you some space in the meantime.
Fold Pants on L-Shaped Hangers
Being open on one side, L-shape hangers allow you to easily slide your pants on them – without worrying about having them slip off.
You can simply fold your jeans and put the legs through the L-Shaped hanger. This way, they will never flop around or fall off. What's more, when you decide to grab them and go, they won't make a mess. By simply swinging an item over the hanger, you will save invaluable time while getting dressed in the morning.
Besides, L-shaped hangers keep even the heaviest pants stable, so you can be sure that they will withstand the weight of any pants in your wardrobe.
Use Clip Style Hangers for Your Pants
Tired of ironing your pants every morning? Clip style hangers provide the best protection against wrinkles. With clips and clamps, they keep your jeans, skirts, and pants steady, sharp, and free of damage.
Pro tip: some clip hangers don't feature rubber coating – so, take an extra measure to protect your items from gouging by putting a piece of cardboard in-between the clips.
5. Raise Your Closet Rod Higher
Following up on the previous tip, this piece of advice is often overlooked or completely unknown to many people who are having trouble creating space in their closet.
When hanging your clothes in your closet, raising the rod is a simple hack. Yet, the results are spectacular! Even a bit of extra height can save you lots of vertical space in your small closet.
You could even go a step further and add an extra rod to your closet to really open up your closet space. 
6. Use The Closet Door Strategically
If you've tried everything else and still can't get enough room, you need to think outside the box. People rarely think of using their closet's door, but it can be a lifesaver and a hidden gem.
There's many options to choose from here, such as over-the-door organizers, hooks, or racks, or even a door-mounted rod. Using your door as a closet space is an excellent solution for additional storage without taking up valuable space.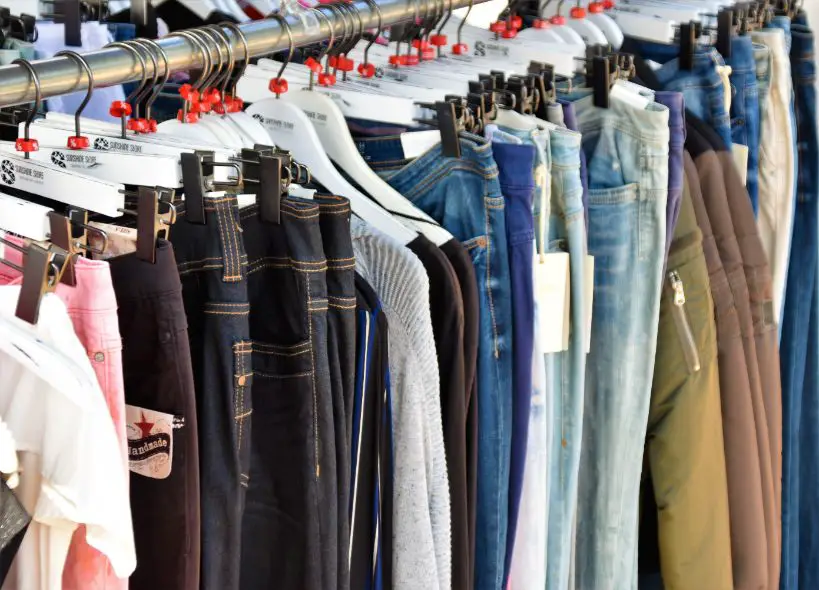 7. Opt for Skirt Hangers to Hang Pants Efficiently
A secret tip to use the vertical space in your closet efficiently is to make use of skirt hangers over conventional ones. Since skirt hangers feature clamps that attach to the waistband of your pants, they won't crease as often.
Another advantage of using skirt hangers is their ability to save space in your closet. With regular hangers, you may find yourself using up one hanger per a pair of pants. With multi-layered skirt hangers, you can layer several pairs on a single hanger like a ladder. By this, they can keep your pants easily accessible, as you can visualize them better.
8. Step Away From Your Off-season Clothes
When all else fails, it's time to say goodbye to off-season clothes (for now). If you want to make the most out of your closet space, we advise you to stash away the clothes that you won't really be wearing for a long time. By doing this, you'll make sure that your wardrobe has enough space for the pair of pants that you'll actually wear.
9. Decide What to Do With Unused Clothes 
If your closet is still cluttered, consider clearing out some pairs of pants, bulky jackets, overcoats, and even other unwanted clothing to make space for the ones that you'll actually be using that season. 
There are many ways to breathe a new life into your unwanted clothes. If you decide to build a sustainable capsule wardrobe, we recommend that you donate unused clothing to your local community – be it via Facebook or Buy Nothing groups directly. This way, your clothing will fall into the hands of those who really need it. And of course, you will get rid of excess clutter.
Overall, separating from your clothes might feel like a breakup. So, before making that final decision, consider altering, upcycling, or repurposing the items you no longer wear.
10. Review the Remaining Clothes
The last step is to have a good look at the remaining pile of clothes and decide if you're happy with what you have left in front of you. Letting go of clothes is hard but after a quick overview of your closet, you'll find out whether you kept the good items or still need to make some tweaks.
Final Thoughts
In conclusion, finding efficient ways to store pants while maximizing space is a game-changer for any closet or wardrobe. By implementing the ten strategies mentioned here, you can easily rework your closet's storage system and enjoy a clutter-free and organized space.