Are your dresses, shirts, jeans, and coats crying out for organization? It's time to store them the right way, so that you can double the amount of closet space and bring more harmony into your life.
So, say goodbye to toppling towers of shirts and overflowing dresses – our 10 tips for hanging clothes in closet will put an end to your 'messy closet syndrome.'
1. Fold Dress Pants on L-Shaped Hangers
Being open on one side, L-shape hangers allow you to easily slide your pants on them – without worrying about having them slip off.
You can simply fold your jeans and put the legs through the L-Shaped hanger. This way, they will never flop around or fall off. What's more, when you decide to grab them and go, they won't make a mess, saving you time while getting dressed in the morning.
Besides, L-shaped hangers keep even the heaviest pants stable, so you can be sure that they will withstand the weight of any pants in your wardrobe.
2. Use Clip Style Hangers for Pants And Skirts
Tired of ironing your pants every morning? Clip style hangers provide the best protection against wrinkles. With clips and clamps, they keep your jeans, skirts, and pants steady and free of damage.
Pro tip: some clip hangers don't feature rubber coating – so, take an extra measure to protect your items from gouging by putting a piece of cardboard in-between the clips.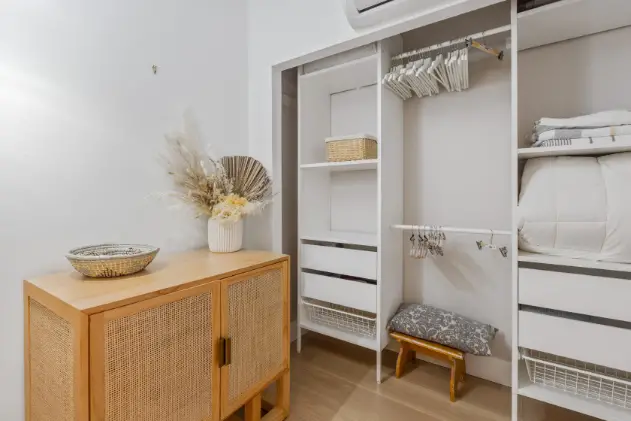 3. Invest in Specialty Hangers
To optimize space for ties, belts, handbags, underwear, scarves, and other accessories, it's worthwhile to opt for specialty hangers.
Underwear hangers – with multiple hooks, underwear hangers can keep your bras, panties, and other delicate items tidy and damage-free.
Scarf hangers – these functional closet accessories will make it easier to organize your scarves, ties, and even belts, featuring multiple loops to hook your items through.
Swivel tie / belt hangers – rather than mangling your belts and ties in the drawer, it's more convenient to hang them in plain sight. Swivel tie hangers allow you to access your items easily, and they often come with additional hooks for your belts.
4. Use Two Hangers for Long Items
Long dresses and jumpsuits may take up too much space, which is why we recommend hanging them by using two hangers – a regular one and a clippy one.
Grab the clippy hanger and attach it to the bottom of your dress or the legs of your jumpsuit. Once clipped, grab the hook of the clippy hanger and hang it on the bar of the regular hanger. This will layer the two hangers on top of each other, folding the item in two and saving space.
5. Double-Hang Your Clothes
On the closet rod, you can hang clothes upon each other using multi-layered hangers, which are perfect for skirts, pants, ties, and belts alike. By storing multiple garments on a singular hanger, you can compress everything deftly on the rod of your closet – ultimately, saving more vertical space for other items.
Pro tip: opt for cascading hooks to stack clothing upon each other on multiple hangers at once.
6. Opt for Wooden Hangers
All sustainable fashionistas should incorporate wooden hangers into closet organization. Not only do wooden hangers repel bugs, fungi, and moth, but also biodegrade when discarded. Unlike velvet or metal hangers, they are durable, which means that they can withstand a lot of weight without bending.
Wooden hangers will preserve the shape of your items, as compared to metal ones that might cause rusting, creases, or indentations. Besides, the latter might tear soft fabrics with their sharp edges, which is something you should avoid to preserve your clothes for longer.
Why Avoid Regular Hangers?
Most plastic hangers are made of Polystyrene (also known as Styrofoam) and Polycarbonate, making them challenging, if not impossible, to recycle. Wooden hangers, on the other hand, are composed of natural materials, such as cedar, rosewood, and beechwood, making them more durable and environmentally friendly.
Pro Tip: While the dry-cleaner may give your items back hanging on flimsy, single-use wire hangers, you should not use them, as they might damage your clothes with long-term use. Instead, hang them on wood hangers and take the wire ones back to the dry cleaner.
7. Think About Accessibility
When organizing your closet, the last thing you want is making a mess in the morning – all because you can't find the items that you wear the most often.
Optimizing placement is the most important factor for sustaining a tidy closet in the long run. Hence, it's crucial to hang your most-used items up high, in the front, while putting the rest away towards the back. This way, you'll be able to tailor the layout of your closet to your needs, eliminating wardrobe frustration.
So, when thinking about how to hang clothes in closet, always prioritize accessibility. After all, arranging your clothes the right way, you can avoid the urge to shop more, tackling the feeling of having 'nothing to wear.'
8. Use The Reverse Hanger Trick
Whether you're looking to create a sustainable capsule closet or get rid of clutter, you should pay attention to what your most-used items are. To do so, use the reverse hanger trick. After you hang all your garments, simply put the hangers outward, so that the open end of the hooks are placed towards you. When you wear each item, however, turn the empty hangers inwards. This way, you'll keep track of what you wear and what you don't, optimizing your closet organization even further.
Using the reverse hanger technique, you can sort out each individual item in your closet. Think about why you refrain from wearing some of them – is it because they don't fit or are no longer fashionable? or perhaps, you have some trouble styling them the right way?
Regardless of the reason, being mindful of your closet companions is crucial. You can only maintain a tidy and eco-friendly closet if you think holistically about fashion. So, befriend decluttering, upcycling, and repurposing, and breathe new life to the clothes that end up squashed in the back of your closet.
9. Determine Whether to Hang or Fold
When figuring out how to hang clothes in closet, always visualize your storage real estate – what does your closet look like? does it accommodate longer or shorter items? do you have more space for hanging or folding?
Besides, you should also consider your items and whether they get to be stored away in the dresser. Items composed of delicate fabrics, such as silk, bamboo, or merino wool, should be hung in your closet, as they're more prone to damage. Items made of sturdier fabrics, such as sweaters, activewear, and jackets, on the other hand, belong in the drawer.
10. Categorize Your Items
We all want to avoid the ultimate closet disaster of toppling towers of wrinkly garments and overflowing drawers. Yet, we forget to pay attention to the underlying issue, which lies in the lack of wardrobe planning.
While learning how to hang clothes in closet, you tend to focus on the physical layout of your wardrobe. However, the mental layout is equally as important. With that said, here are a few category factors to consider:
Sort Items Based on Color
Are you a visual person who chooses what to wear based on color seasons? In that case, consider sorting out your items based on color. By this, you'll curate an aesthetically pleasing concoction of items that correspond with your personal color scheme. The visual harmony in your closet will translate into your outfits, whether it's through matching complementary colors or adjusting your outfits to your undertone.
Categorize Items Based on Height and Weight
When determining how to hang clothes in closet, make sure to create mental zones for all your items. By utilizing the right accessories, such as rack tags, hooks, shelf dividers, you can create separate sections for long dresses, short skirts, flowy blouses, or other garments – based on their height and weight.
For instance, shorter and lighter items, such as crop tops, short skirts, or shirts, would go on shorter shelves. Longer and bulky ones, on the other hand, would occupy high-level shelves or higher racks, taking up more space in your closet.