With the rising interest in sustainability, fashion brands are hopping on a seasonless calendar. More and more retailers reject micro-seasons and embrace wardrobe staples that one can wear all year long. Given that, we decided to highlight the seasonless fashion brands that strive to dismantle 'last-season' as a dirty word.
So, if you enjoy the thrill of repurposing, re-wearing, and re-styling, you're in the right place. You can finally say goodbye to buying new clothes for every season and embrace a more eco-conscious lifestyle – all without sacrificing style. Without further ado, let's explore 7 seasonless fashion brands that every eco-fashionista must follow in 2023:
1. Noora Hefzi
If you seek sophistication in every garment that you wear, this is the brand for you. Embracing seasonless luxury, Noora Hefzi features timeless designs that stand the test of time. The brand revolves around the idea of creating fashion without an expiration date, operating on a made-to-order basis.
Going against mass production, the brand prioritizes one-of-a-kind, sophisticated designs, made of carefully-selected fabrics.
2. Unrecorded
A sustainable unisex brand, Unrecorded creates basic yet high-quality pieces for men and women alike. The brand dismantles the importance of gender and trends in fashion. Besides, it crafts garments from 100% GOTS-certified organic cotton and natural fabrics that don't go through chemical processing. The dyes used on their fabrics are free of harmful chemicals.
Unrecorded emphasizes quality in its timeless pieces, which are designed to last. What's more, the brand refuses to generate fabric waste, as it uses 100% of its materials and prevents overstock.
As a sustainable fashion enthusiast, you may also appreciate the fact that Unrecorded doesn't do sales, promotions, or discounts. The brand believes in conscious consumption, which is all about buying what you need, when you need it.
3. Outerknown (highlight jumpsuits, jeans, minimalist dresses)
A fast-moving calendar can stay on the runway. Outerknown is here to deliver sustainable basics and versatile essentials – all with organic, recycled, upcycled, and natural materials that ensure circularity. The brand's vibrant jumpsuits, breathable jeans, and minimalist dresses would work wonders for any seasonless wardrobe.
Remarkably, Outerknown is Fair Trade and Fair Labor Association certified, which means that the brand embraces responsible sourcing and ethical labor standards across the entire supply chain. So, if you're a fan of seasonless fashion brands, this is certainly the one to support.
4. Amour Vert
Launching collections in limited quantities, Amour Vert merges minimalistic designs with bold prints that work across all seasons. Its garments are ideal for adding a pop of color to your ethical closet.
What's amazing about this brand is its commitment to craftsmanship. Every garment from Amour Vert is designed, cut, and sewn at its local atelier in San Fransisco, California. The brand partners up with artists to craft its unique, vibrant prints, planting a tree for every purchase of a t-shirt with American Forests. This forward-looking brand sticks to the roots of sustainable production, and we're here for it!
5. LA Relaxed
A perfect brand for sustainable basics, LA Relaxed follows an interesting pillar for ethical production – 'under 100 footsteps.' With LA-based production sites, the brand boasts of completing under 100 steps to produce each garment, including designing, manufacturing, and fabric sourcing. In other words, it embraces all things local, as compared to fast fashion brands that produce their garments across multiple countries at once.
Rather than overstocking, the brand collaborates with LA-based fabric mills and repurposes any leftover textiles into new items. It also launches limited runs of items to prevent overproduction.

With that said, LA Relaxed is a huge highlight in our list of sustainable fashion brands. With organic staple pieces, this brand will be every eco-fashionista's best companion – be it when building a capsule wardrobe or incorporating timeless basics to wear all year round.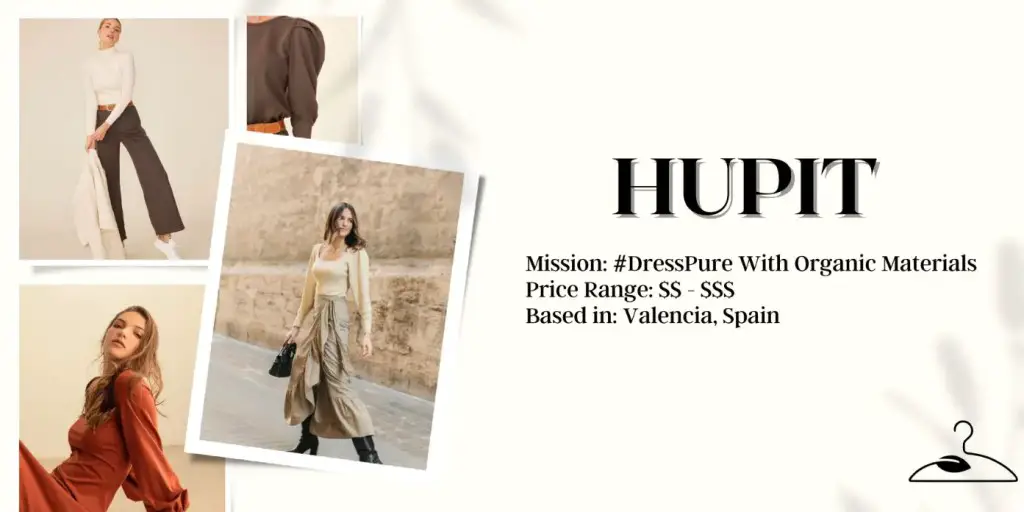 6. Hupit
No other brand marries style with sustainability like Hupit. With delicate cuts and sophisticated designs, the Spanish brand is a celebration of nature, elegance, and femininity.
With biodegradable cotton jackets and non-toxic activewear, Hupit's garments can work across all seasons and come in handy when dressing in layers. Besides, they're made of natural fabrics like GOTS certified cotton, biodegradable linen, peace silk, and other natural fibers, which are skin- and planet-friendly.
7. ARMEDANGELS
For affordable, ethically-made basics, look no further. A Germany-based sustainable brand, ARMEDANGELS incorporates organic fibers into its seasonless staples. The brand offers minimalist organic cotton tees, low-impact, Tencel Lyocell activewear, as well as linen summer dresses.
With a transparent supply chain, ARMEDANGELS's fabric portfolio consists predominantly of natural materials (95%). Yet, the brand also introduces recycled polymers (4%), such as polyester & polyamide to boost the functionality of its outerwear and activewear products.
Our Tips for Shopping at Seasonless Fashion Brands
If you're tired of statement pieces, sometimes, all you have to do is incorporate a few basics to elevate your outfits. Whether you're building a capsule wardrobe or reducing clutter, seasonless fashion brands are your solution. While hunting for functional yet versatile items, these brands will make you forget about constant seasonal updates and microtrends.
Yet, truth be told, it's possible to overconsume sustainable clothes, thinking that they're eco-friendly. This is crucial to avoid, especially if you're looking to minimize your environmental footprint. With that said, let's review the following tips when browsing through seasonless fashion brands:
Avoid Green Consumerism
Green consumerism is the phenomenon of buying too many sustainable clothes for the sake of eco-friendly goals. When building an all-year-round capsule wardrobe, you may fall into the trap of shopping too much at seasonless fashion brands. Yet, remember that every new purchase leaves an ecological footprint, regardless of how sustainable it is in theory. For this reason, make sure to reevaluate your wardrobe and shop for your needs, rather than wants.
Research The Mission Behind Every Brand
Learning about sustainability certifications and labels can get overwhelming. However, many brands have distilled their mission and accomplishments into digestible messages. As a consumer, you can educate yourself on seasonless fashion brands and where they stand on issues of material sourcing, offshoring, community-building, and more. Simply browse through the 'About Us' or 'Sustainability' pages of your favorite brands and tap into the thrill of the hunt!
What is Seasonless Fashion?
As opposed to the fast-paced trend system, seasonless fashion is all about dismantling micro-collections and extending the traditional, short-lived fashion calendar. This means crafting styles that can be worn all year round – without looking dated after a specific time period or trend cycle.
The Rise of The Seasonless Fashion Movement
Ever since the Covid-19 pandemic, the seasonless fashion movement has gained traction among fashion brands. As stores closed down because of the pandemic, retailers adopted the seasonless calendar to have more flexibility in their operations. This involved crafting a "core line" of the most in-demand designs, supplementing it with a tinge of trendiness and novelty.
This is also reflected in consumer behavior, as more and more shoppers started looking for trans-seasonal, multifunctional garments, such as casual luxe or athleisure. What's more, they stopped buying clothes for particular seasons. Instead, they started hunting for the pieces that they truly loved.
The Curse of Speed In Fashion
The current speed of the fashion industry rewired our brains to shop more and most importantly, fast. The reason behind this lies in convenience – by making clothing more consumable, retailers establish a culture engrossed in consumerism.
Gorged in 52 micro-seasons a year, shoppers and brands alike are stuck in an endless loop of trends. However, the pandemic and the ongoing environmental crisis deemed the seasonal fashion architecture futile. As trends fail to stand the test of time, retailers are forced to overproduce designs that aren't future-proof.
What seasonless fashion implies, therefore, is the rejection of time-based consumption and production cycles. As brands rethink the year-round production machine, shoppers shift toward longevity – they prioritize timeless pieces that don't fall victim to seasonal schedules or fleeting trends.
Conclusion
Minimizing your environmental footprint, seasonless fashion brands can help you curate a versatile, all-year-round, seasonless wardrobe. Unlike the latest trends, seasonless pieces don't come with an expiration date! Instead, they remain chic, stylish, and functional across all time periods. What's more, when they're made of natural fabrics, you can be sure that they'll last for years to come. So, stick with sustainable brand choices, rather than buying from mainstream, fast fashion brands – this way, you'll build timeless outfits while supporting a better future for the planet.